Virtual TimeClock Knowledge Base
Virtual TimeClock has built-in Activity Detail and Activity Summary reports that display activity hours for any selected period of time. These reports are available in the Reports menu when administration is turned on. These built-in reports can be easily modified, duplicated, and new reports created from scratch according to your reporting needs. Explore and customize by selecting Report Writer from the Configure menu.
Note: Before you can view activity hours on reports, you must first create your activities, then assign them to user groups, and next record time using your activities.
Activity Detail & Activity Summary Reports
To run one of the built-in activity reports, follow the steps below:
Select Turn Administration On from the File menu.
Select Activity Detail or Activity Summary from the Reports menu. The details report shows every entry for all activities while the summary report just shows totals for each activity. By default, reports will display all activity hours in the current payroll period.
Below is an example of the Activity Detail Report: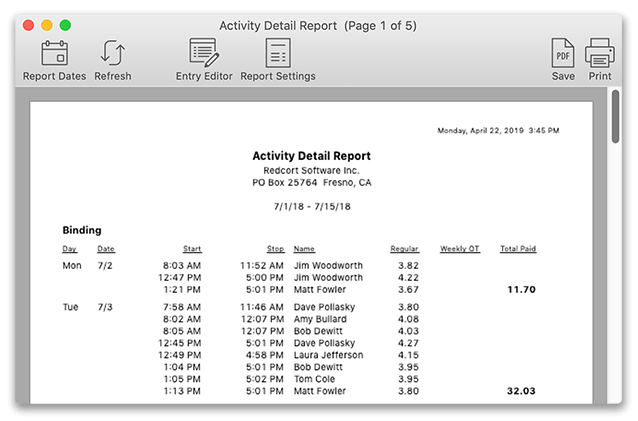 To change the date range of the report, click the People & Dates icon in the top left corner of the report.
To change the users or activities included on the report, select the Report Settings icon. Click Selection & Sort to choose users the activities and/or users included in the report. See the Modifying & Creating Reports article for more information about customizing reports.
Below is an example of an Activity Summary report with Worker Summary enabled in Report Options:
Including Activities on Other Reports
While the Activity reports track hours by activity, you may also want to view activities on other types of reports. Activities are automatically included on worker Timecard Detail reports. Activities can be included on detail reports in two ways:
Activity Column: This display option shows activities in a separate column on reports for easy viewing.
Activity Summary: This option presents a total of worker hours by activity at the bottom of the timecard report
To access these activity settings, review the Modifying & Creating Reports article. Below is an example of the Timecard Detail Report with the Activity Column and Activity Summary enabled: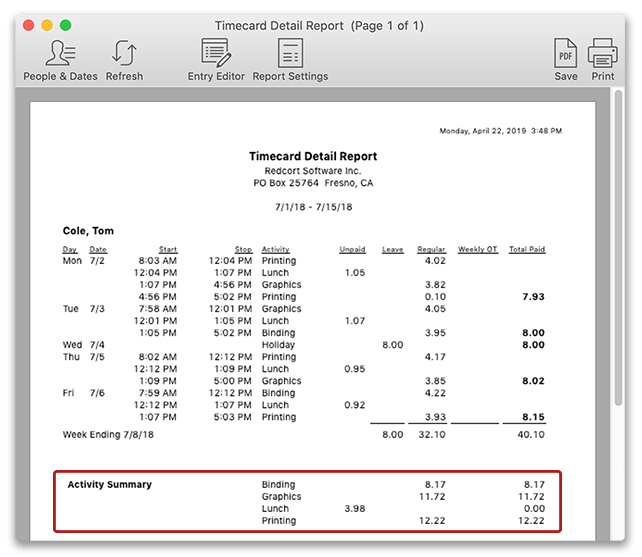 Selecting Activities for a Report
Activity Reports can be customized to include one or a selected group of activities. To change which activities are included on reports follow these steps:
Select Turn Administration On from the File menu.
Select Report Writer from the Configure menu.
Choose a report in the left column, such as the Activity Detail or Activity Summary.
Click Selection & Sort.
In the Entries popup menu click Selected Activities. Click to check/uncheck the activities to be included.
Save changes and click the Preview Report icon to view the report.
Reporting Premium Pay Activities
Premium pay activities can be created, but wages and rates cannot be modified by activity in Virtual TimeClock. Premium pay hours can be tracked in Virtual TimeClock, but they need be reported to your payroll provider because your TimeClock tracks hours, not the actual difference in pay. See the Overview of Activity Tracking for more information on creating and tracking time toward an activity.
Exporting Activity Reports
You can export activity hours for enhanced data analysis and/or job costing. Review the Exporting article in the Knowledge Base for more information.