Virtual TimeClock Knowledge Base
Reporting Time by Department
Virtual TimeClock offers the ability to view timecard information by department for labor costing and productivity tracking purposes. Departments are used solely for reporting purposes; employees do not clock in/out of departments. If your users switch between departments regularly, consider using the Activities feature. This article will explain how to create departments, assign users to departments and view departmental reports.
Note: The Department feature is only available in Pro or Network edition.
Creating Departments
Follow the steps below to create a department:
Select Turn Administration On in the File menu
Choose Departments from the Configure menu.
Create a new department by clicking Add in the bottom left corner.
Enter a department name and click Save.
Add users to the department by selecting Edit in the Department Members section.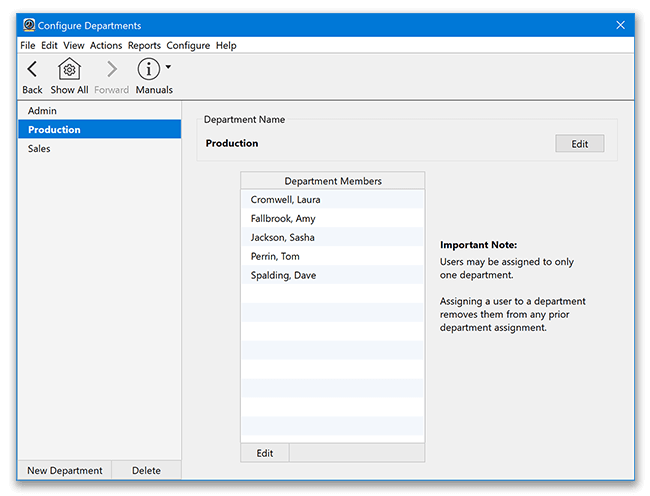 Note: If a department is deleted, the users in the department will no longer be assigned to a department and their timecard entries will no longer be displayed on departmental reports.
Viewing Departmental Reports
Follow the steps below to view a departmental report:
Select Turn Administration On in the File menu
Choose Departmental Detail or Departmental Summary from the Reports menu.
Departmental Detail: this report will display all department member time clock entries for the date range selected.
Departmental Summary: this report displays the total hours worked for each department for the date range.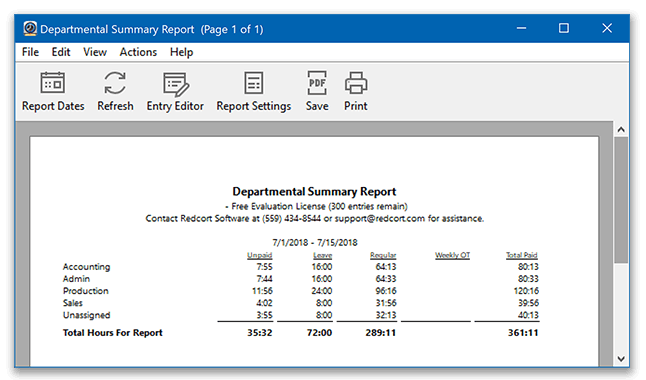 Select Report Dates in the report toolbar to change the date range of the report.
View or change individual entries by selecting the Entry Editor icon in the report toolbar.