Skip to content
Virtual TimeClock Knowledge Base
Exporting from Virtual TimeClock
Exporting data from Virtual TimeClock facilitates in-depth data analysis and integration with other business data. You can easily export data from Virtual TimeClock Pro and Network editions to comma separated (CSV) or tab separated text files. This article will explain how to use the Export feature in detail.
Exporting Timecard Data
To export data from Virtual TimeClock, follow the steps below:
Select Turn Administration On from the File menu and click Export in the admin toolbar.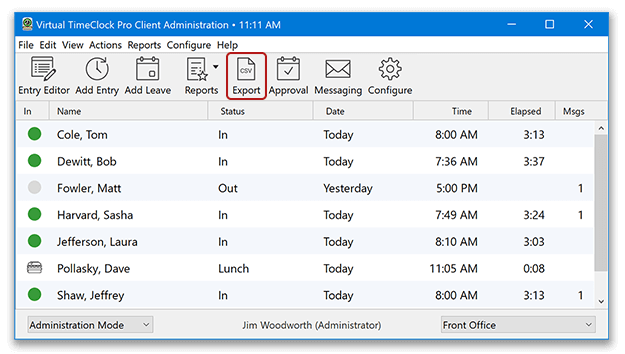 Select Users to Export and choose an Export Type from the pop up menu. Detail reports will export all entries, while summary reports export totals only.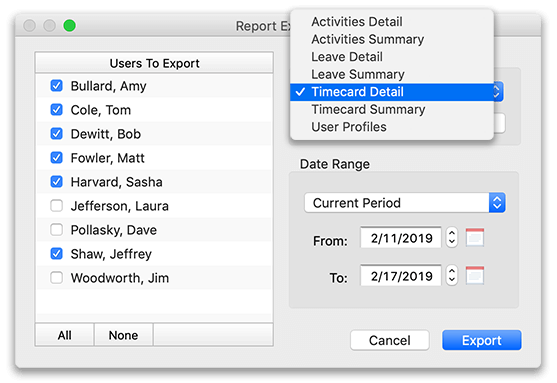 Note: To further customize an export, see the steps below.
Choose the proper Date Range and click Export to save the file.
Customizing an Export File
Follow the steps below to create a custom data export.
After following the directions above, click Setup under Export Type.
Note: Changing export settings will apply to all future exports of the selected report until you adjust the settings again.
Click the Select button below the Fields to Export column to select the fields you want to export. You can drag and drop to change the order in which fields will be exported.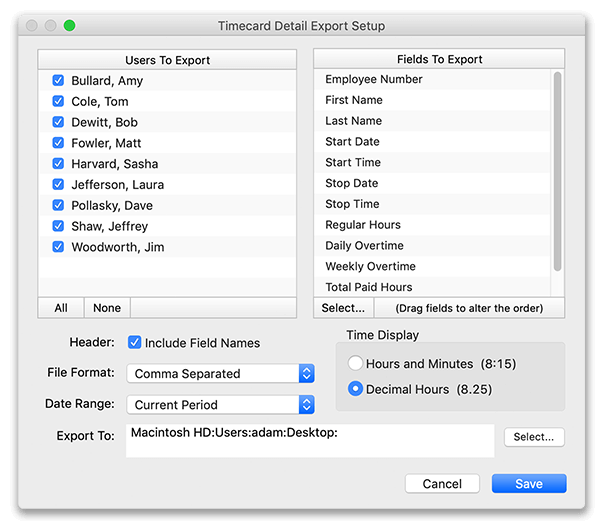 Click the File Format drop down to select Comma or Tab separated fields.
Choose if hours will be displayed in Hours and Minutes or by Decimal Hours.
Change the default location for the data export file by clicking Select next to Export To.
Save changes to return to the Export window and choose Export to save the file.
To open your exported data file, launch your spreadsheet program (Excel, Numbers, etc.) and import the text file as a comma separate values (CSV) or tab separated (TSV) file, depending on your selection in step 3.
Tip: For tab separated files, replace the .txt extension on your file to .tsv and double click the file to open in your default spreadsheet program.