Virtual TimeClock Knowledge Base
Configure Payroll Settings
Virtual TimeClock payroll settings allow you to match timecard and payroll reporting with your company's payroll period. This is an important part of proper TimeClock configuration because the payroll period defines how the program will display your timecard totals and reports. This article will explain setting up your payroll period as well as other options available for Pro and Network editions users.
Setting Your Payroll Period
Follow these steps to set your payroll period:
Select Turn Administration On from the File menu.
Choose Payroll Settings from the Configure menu.
Modify the Payroll Frequency and Current Payroll Period settings to match your company payroll period.
Click Apply to save your settings.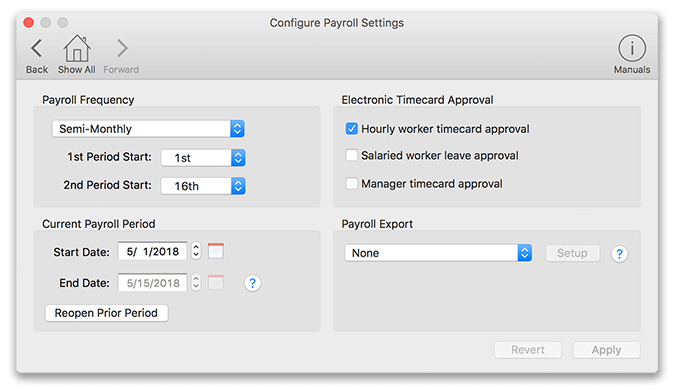 Note: To specify what day of the week your workweek starts, see our Setting the Workweek article.
Payroll Frequency
The payroll frequency is how often employees get paid. Options are Weekly, Biweekly (paid every 14 days), Semi-Monthly (paid twice a month), Monthly and User Defined. When selecting Semi-Monthly or Monthly, you will need to specify the period start day.
Current Payroll Period
The current payroll period defines the payroll period that will be used for totaling and displaying reports. Once the Start Date is entered, the software will automatically calculate and display the End Date, unless the Payroll Frequency is set to User Defined. In that case, the user will need to define both the start and end dates.
Note: The Reopen Prior Period button allows you to open the last closed period to make changes.
Electronic Timecard Approval (Pro & Network Editions)
Virtual TimeClock Pro and Network editions provide an electronic timecard approval system that allows employees to approve their timecard hours without printing them. This can cut back on paper waste and expedite the payroll process for administrators. Review the Electronic Timecard Approval article for more information.
Payroll Integration (Pro & Network Editions)
We offer several built-in payroll integrations that can help eliminate payroll errors by importing hours into your payroll software. For more information and to find out if Virtual TimeClock supports your payroll software, review our Payroll Integration article.