Virtual TimeClock Knowledge Base
Virtual TimeClock allows you to create custom groups of users called display groups. These display groups allow you to assign shift rules, security settings, user permissions, activities and much more to a whole group of workers, enabling you to manage your teams more efficiently.
Note: Display groups are only available in Virtual TimeClock Pro and Network editions.
If this is your first time setting up a display group from start to finish, follow the steps in this article so you don't miss any necessary settings or overlook an important feature. If you're new to the concept of display groups review our Overview of Display Groups article.
Create a New Display Group
You can create an unlimited number of display groups with unique settings depending on your business needs. Follow the steps below to create a new display group from start to finish:
Select Turn Administration On from the File menu.
Choose Display Groups from the Configure menu.
Note: On the left side of this window is your current list of display groups. TimeClock Users is the default group which includes all users of the time clock.
To create a new group, select New Group in the bottom left corner and name the group.
Review the default settings for the new display group starting in the Settings tab. Some options, like requiring user passwords and enforcing missed stop, are enabled by default. Refer to the Group Settings article for detailed information about configuring display settings.
Note: Any changes made to a display group only apply to the group highlighted in the left column. If you want the same settings on multiple groups repeat the changes and save them for each display group.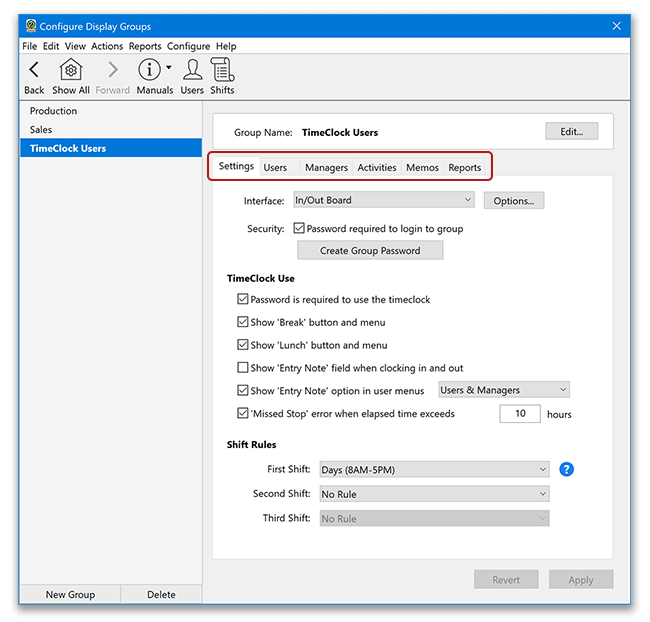 Set User permissions by reviewing the Users & User Permissions article.
If needed, setup Manager permissions by reviewing the  Managers & Manager Permissions Knowledge Base article.
Note: Managers assigned to a display group can only view or edit timecards for users of that display group.
If you will be tracking jobs or activities, read the Assigning Activities to Groups article.
Allow users to leave an out memo when they punch out by reviewing the Out Memos Knowledge Base article.
In the Reports tab you can customize the access users will have to reporting. Find out more in the Reports for Groups article.
An administrator can revisit and edit these settings at any time while in administration mode.