Skip to content
Virtual TimeClock Knowledge Base
After you've created and configured a new display group, you will be able to switch between groups in administration mode and/or set the appropriate display group for your employee time clock(s). This article will walk you through both ways to use display groups.
Note: If you are new to display groups, see the Overview of Display Groups article.
Switching Between Groups as Administrator
When you are logged into Administration Mode, you can easily switch between your display groups to view different employees. This is especially helpful for monitoring attendance at multiple locations or viewing and exporting reports based on a group of users.
With Administration Mode turned on, click the display group pop-up menu in the lower right-hand corner of the In & Out Board and choose a different group name. You will also find several program groups that can be used to view large sets of your workers.
Important: Any reports you view in Administration Mode are contextual to the current group you are viewing.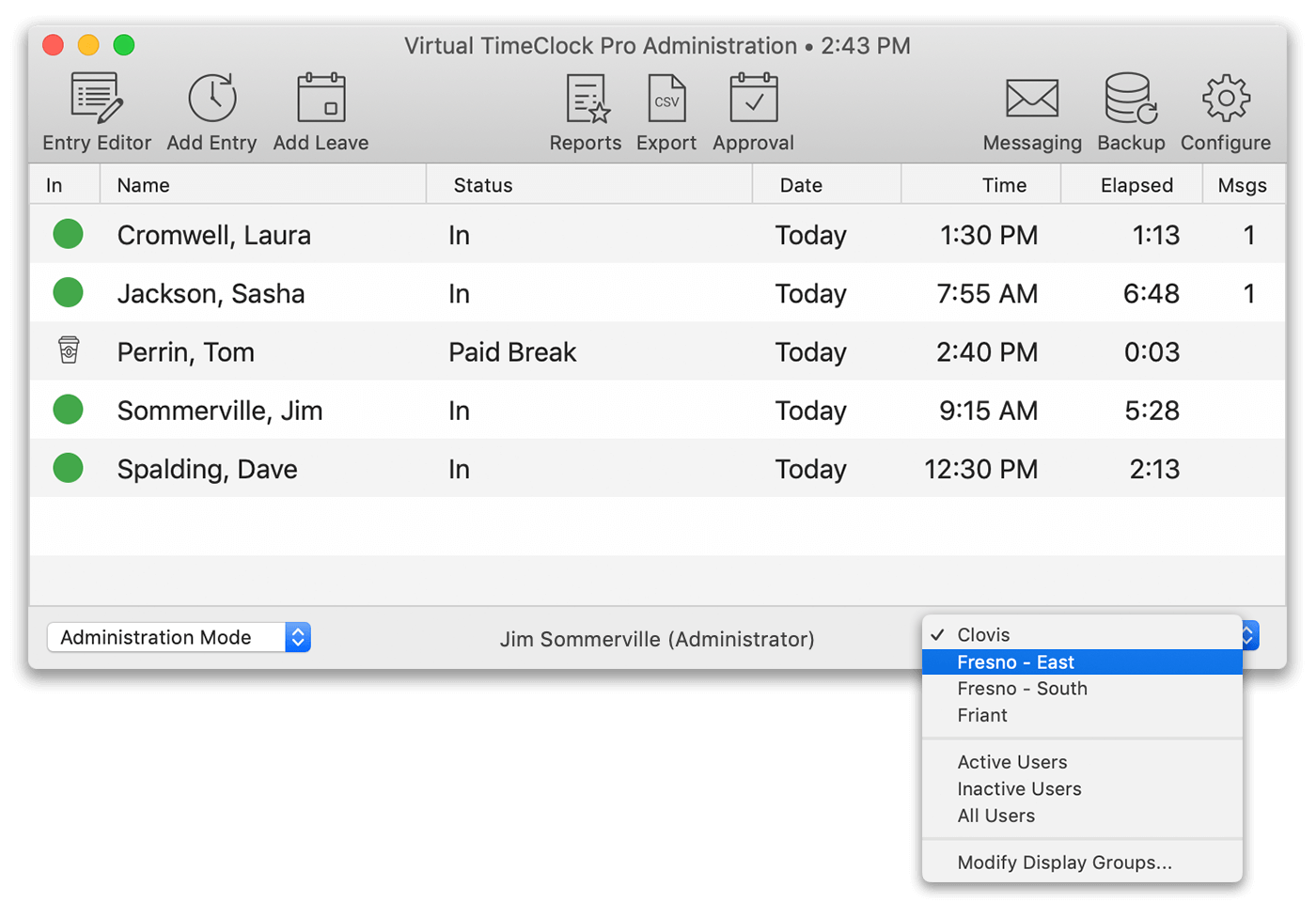 Change the Display Group For Employees
Starting in Version 18, you can change display groups in user mode with the proper password.
In user mode, select Logout of Display Group from the File menu.
Enter an administrator or group manager password.
From the Display Group Login window, choose a display group from the Group pop up list and click Login.

Note: If passwords are required to login to the selected group, you will need to enter an administrator or group manager password before logging into the group. Learn more about group security in the group settings article.
You can also change the display group when existing Administration Mode.
In administration mode, select Turn Administration Off from the File menu.
Choose a group from the Display Group pop up menu and click Continue.
Once you have logged into your new display group, employees can immediately begin tracking time with the new settings.
Changing display groups is a simple task and will help you manage your Virtual TimeClock effectively. For more information about display groups and some of the ways you can use them to organize employees, see the Overview of Display Groups article.