Virtual TimeClock Knowledge Base
One of the most important features of display groups is assigning reports to users and managers. There are over a dozen built in reports that administrators can run and that users and managers can be granted access to. When users view reports they can only see their own personal timecard information, but when mangers view reports in administration mode, they can see timecard information for all users of the group(s) they manage. Continue reading to learn how additional reports can be assigned to users and managers by display group.
Note: If you're new to display groups, review our overview of display groups in Virtual TimeClock Knowledge Base article for more information on how to use this feature.
As with other display group settings, report settings are set at the group level. If you have multiple display groups, ensure that you select the correct group in the left column and repeat the following steps if you want to make the changes to multiple groups.
To access report settings:
Select Turn Administration On from the File menu.
Select Display Groups from the Configure menu. Choose the group you want to edit permissions for in the left column.
Select the Reports tab.
After making any changes to user or manager reports, select Save Changes.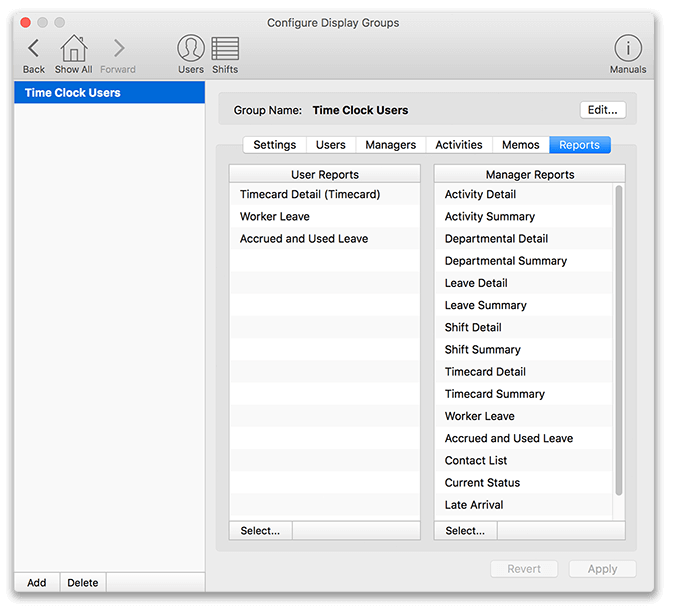 User Report Settings
By default, users only have access to their own timecard, Worker Leave report, as well as their Accrued and Used Leave report. Users can be granted access to additional Report Writer and Program reports by clicking Select at the bottom of the User Reports section. Check/uncheck the boxes for any reports you want to give users access to and select Save Changes. When users are granted access to reports, they only see their timecard information. Only when users have permission to access the Contact List, Current Status, or Telephone List reports will users see information about other users.
User Timecard Report: Choose a report that will be used when users click to view their timecard. You can choose any report users have access to, but we recommend setting the User timecard report to Timecard Detail.
Manager Report Settings
Administrators have access to all reports in Virtual TimeClock, but manager access to reports is set by an administrator. To customize access to reports, click Select at the bottom of the Manager Reports section. Check/uncheck the boxes for any reports you want to give managers access to and select Save Changes. 
Note: Assigning reports in the Reports tab gives managers access to view reports, but not edit global report settings. To give managers access to edit report settings, select the Managers tab. In the Manager Configure Access section click Select and choose Report Writer.