Skip to content
Virtual TimeClock Knowledge Base
Moving Virtual TimeClock Network Client
This article will help you quickly move the Virtual TimeClock Pro Client or User Client software to a new computer.
1. Determine what version of Virtual TimeClock Network Edition is installed. 
Check your network version by selecting About Virtual TimeClock from the Help menu on Windows or the Virtual TimeClock menu on Mac. You will need to install the same version of client on the new computer, unless you are upgrading.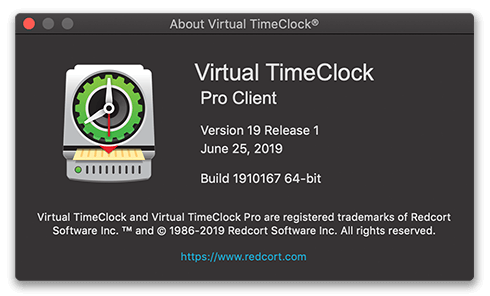 2. Ensure your version is compatible with your new computer.
Verify that your current version is compatible with the operating system of your new computer using our system requirements. If your version of Virtual TimeClock Network is not compatible then you will need to use a different computer or upgrade your entire TimeClock network. Please refer to our upgrade overview.
3. Remove the program from your old computer.
Follow the steps in our Network Edition Client uninstall guide to uninstall the client software.
4. Remove the client registration in the Virtual TimeClock Server Manager.
Follow the steps in our Removing Client Registration article to free up a client license on your TimeClock network.
5. Install the client software on the new computer.
Follow the steps in the Install Virtual TimeClock Clients section of the Installing Network Edition article.