Virtual TimeClock Knowledge Base
Removing Client License Registration
When installing the TimeClock client software on a new computer, you may get a message stating that your client licenses are all registered to other computers, even if you're not using the software on the old computer anymore. To connect your new computer, you will need to remove the client registration for the old computer in the Virtual TimeClock Server Manager program.
Note
: If you do not want to remove a client license, you can purchase additional clients on our
pricing page
.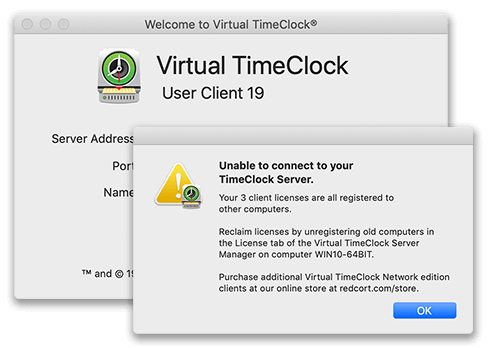 Client License Registration
Any computer that has connected to your TimeClock Server at any time in the past, is registered as a client and uses a client license. This includes computers that have crashed, are no longer in use, or even one-time remote desktop sessions; for example if your IT professional remotely set up and connected your clients from his computer. To connect a new computer to your time clock, you need to remove the old client registration to free up a client license.
Note: Uninstalling the client software alone does not remove the registration for the computer.
How to Remove a Client License
Removing a registered client will not affect user data. Follow the steps below to remove a client license registration:
Launch the Virtual TimeClock Server Manager program.
Choose the License button in the toolbar.
Select the computer to remove from the Client Computers list and click Remove Client.
Tip: Computer names with a greyed out dot are computers that have connected to your TimeClock Server at some point, but the program isn't currently open.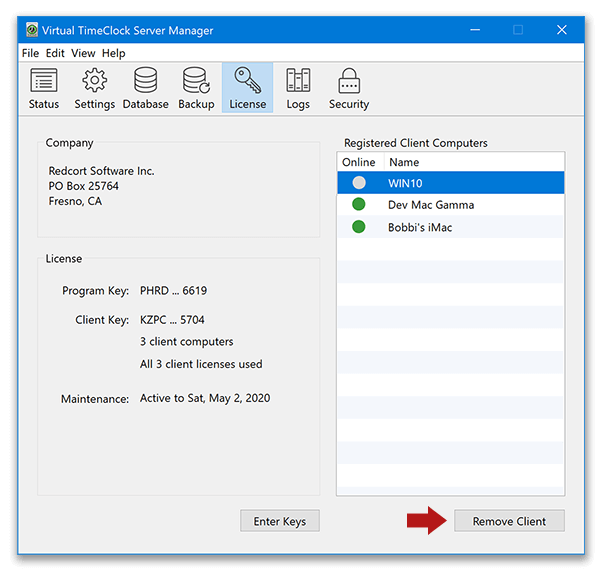 If you do not recognize the name of the computer you want to remove, you can clear all of the registered clients that are not currently online and simply have those clients reconnect.