Virtual TimeClock Knowledge Base
Reopening Payroll Periods
Virtual TimeClock makes it easy to reopen a closed payroll period. This will come in handy if you need to modify a timecard in a prior period or if the period was closed prematurely and you need to finish totaling timecards. This brief article will outline the steps for opening a closed period.
Reopening a Payroll Period
Follow these steps to easily reopen a closed payroll period:
Important: Use caution when reopening prior periods. Any changes you have made to time clock settings (e.g. wages, overtime rules, time settings, auto time additions/deductions, etc) since the period you are reopening will be applied to the prior period(s) once open. You may want to create a backup before reopening prior periods.
Turn Administration On from the File menu.
Select Payroll Settings in the Configure menu.
Open the closed period.
To open your last period, click the Reopen Prior Period button.
To reopen an older period, set the Current Payroll Period to the prior dates you need to open.
Click the Apply button to save your changes.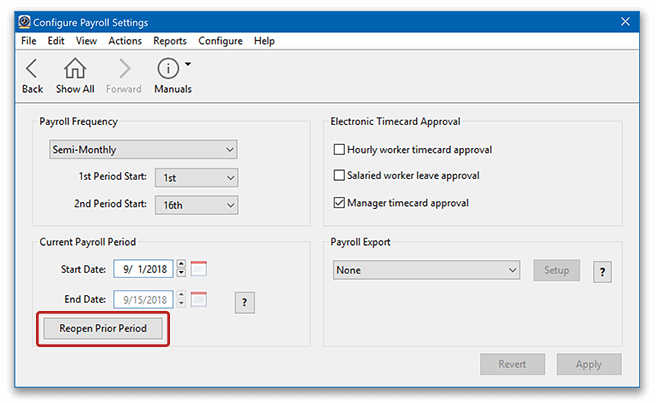 Once you've made any necessary changes to employee timecards, return to Payroll Settings and reclose the period by entering your current payroll period. This will automaticallly total and close every period before the current period.