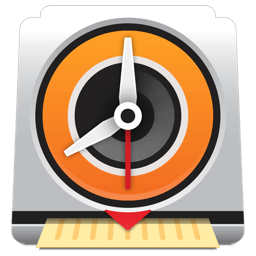 Virtual TimeClock
®
Basic
Affordable, easy-to-use time tracking software for up to 3 employees.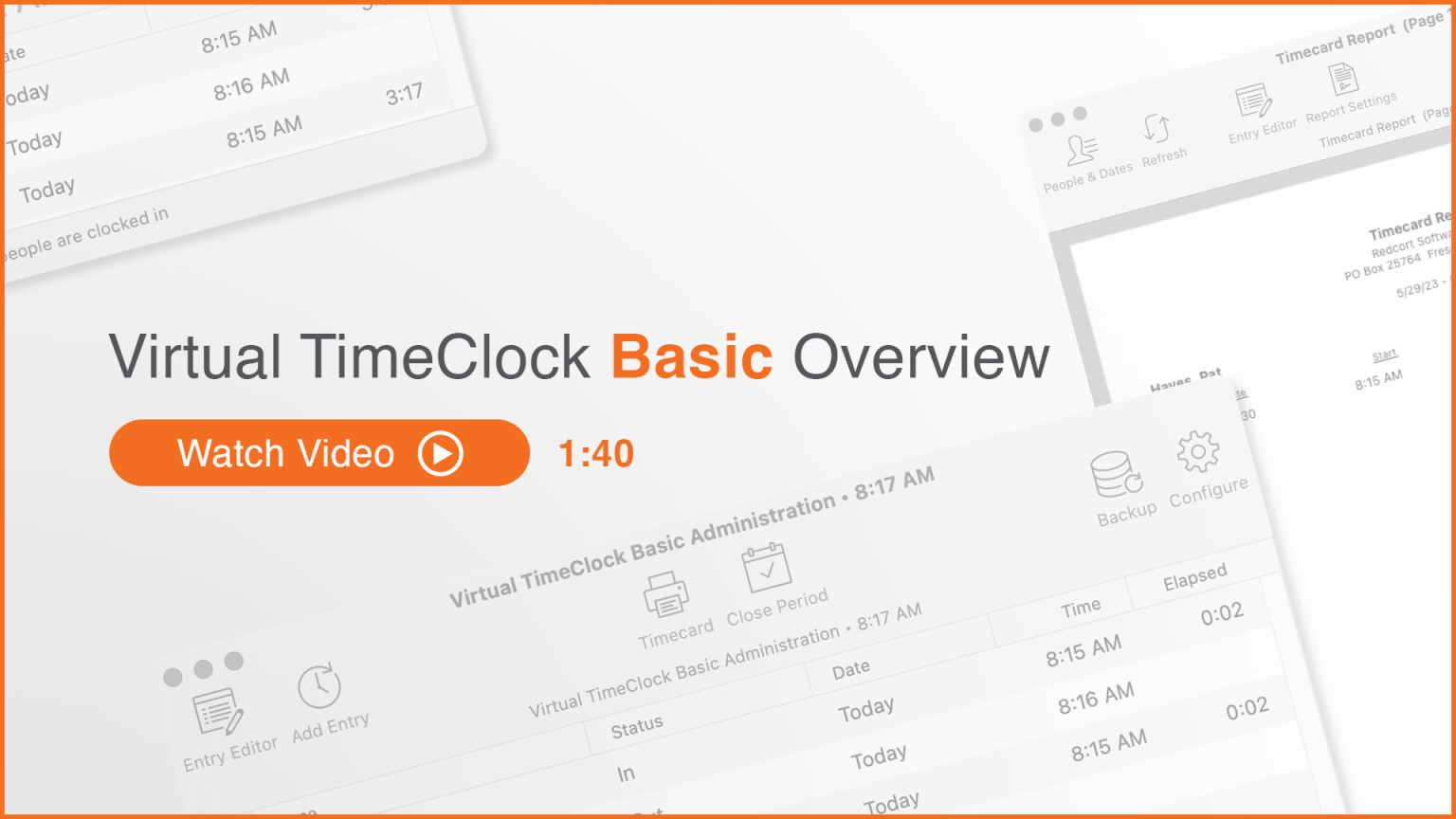 Basic Edition Features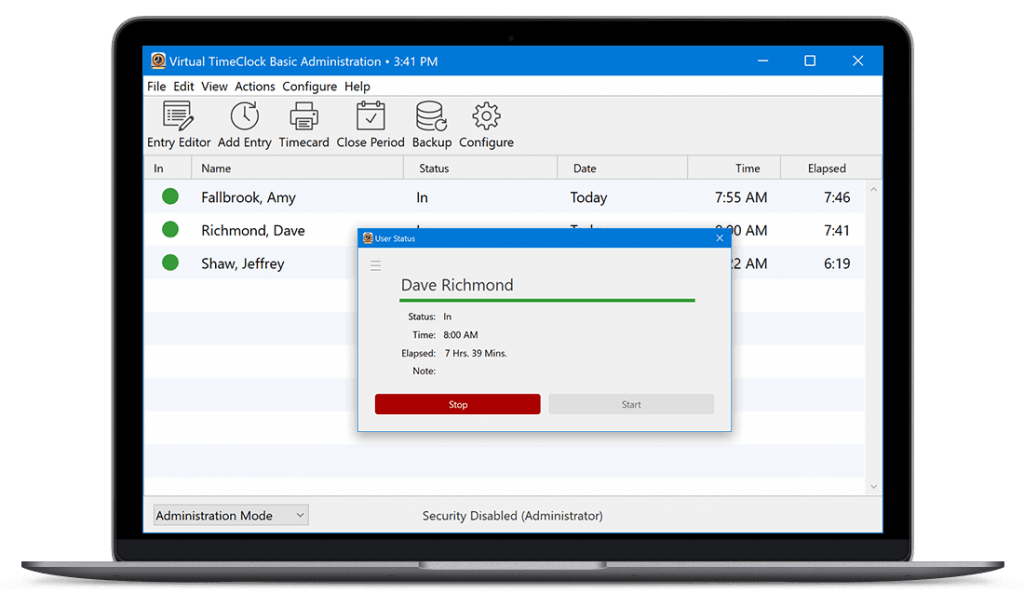 Perfect for startups and small offices
Virtual TimeClock is super easy for non technical users to install and set up. It runs great on just about any Mac computer, Windows PC, or Windows 10 Tablet.
Virtual TimeClock Basic Edition is designed for startups, SOHO workers, or any small business with up to three hourly employees.
The Basic Edition is the right solution if you are looking for a simple time clock that allows up to 3 workers to punch in & out, and instantly totals their timecard hours & overtime for payroll.
It pays for itself in no time
Virtual TimeClock Basic is a one-time $195 purchase. The software is then yours to use forever. No monthly fees! You have a reliable employee time clock and simple timecard reports that can be printed or saved as secure, non-editable PDF files. Employee timecards show each start and stop time with accurate totals of all worker hours and overtime for the period.
Since Virtual TimeClock impartially records worker time, employee payroll costs often decrease while giving employers peace of mind and providing government compliance for paying employees.
Self-employed and home office workers who use Virtual TimeClock often discover that accurate, impartial time tracking actually increases their billable hours while providing the confidence of a documented paper trail.
Virtual TimeClock frees busy entrepreneurs and employees from hours of unnecessary work recording arrival and departure times, totaling hours, and calculating overtime.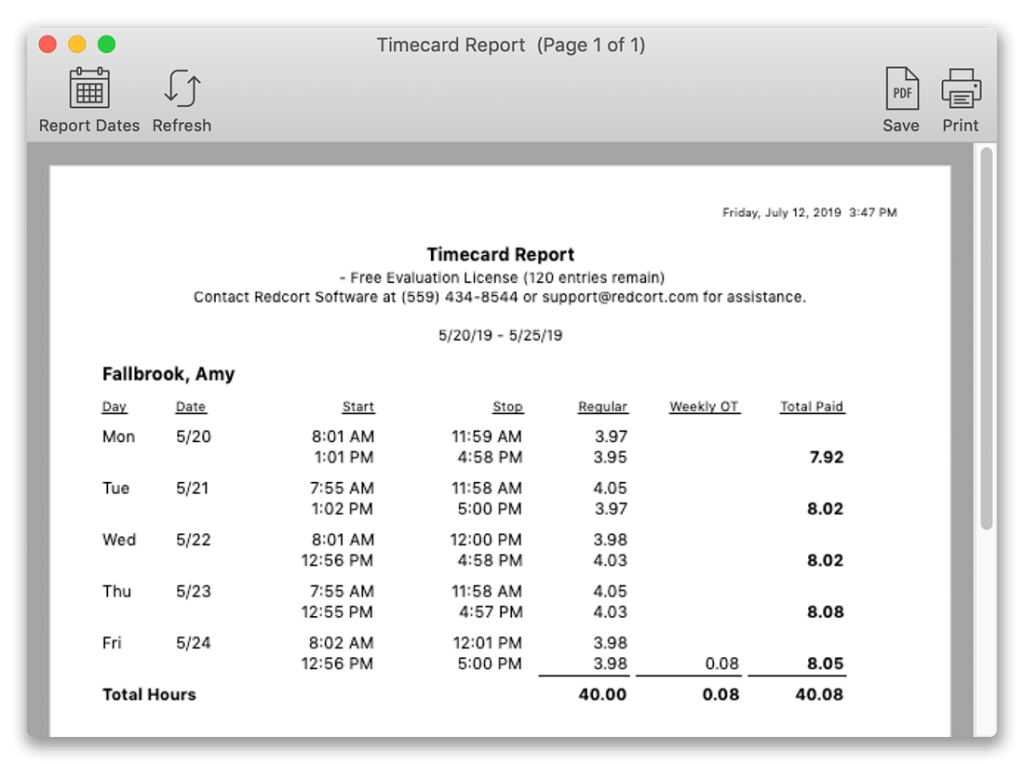 Flexible setup that grows with you
Virtual TimeClock Basic Edition uses the same powerful overtime and payroll rules as our Professional Edition, enabling it to serve the needs of almost any small business, professional or educational environment.
When your head count or business needs grow, your Virtual TimeClock software grows right along with you. With full database compatibility between all editions, you can easily upgrade to our Pro or Network Editions at any time.
Redcort Software offers generous upgrade discounts and a friendly, U.S. based support team eager to help whenever you need us.
Start your free trial of Virtual TimeClock today.
No credit card required.
Download Now
See why people love using Basic Edition
Dr. Ralph Orthodontics
Spokane, WA
"Thank you for providing a clean, easy to use time clock that really has it all!"
Bandeen Orthodontics
Battle Creek, MI
"Your time clock software has been a phenomenal asset to my business, simplifying management of my staff with an easy to use interface."
Massage 1
Las Vegas, NV
"Virtual TimeClock is a great piece of software that allows us to easily track our massage therapists' schedules as well as which therapy rooms are in use. I highly recommend this product and love the no subscription model. Thank you Redcort for providing this high quality software at an affordable price."