Virtual TimeClock Knowledge Base
Clocking In & Out – Pro or Network Edition
Virtual TimeClock Pro and Network editions provide multiple ways for employees to quickly and easily clock in and out for work. This article will cover how to punch time on each interface, how to clock in with a Missed Stop error and how managers or administrators can clock users in out in Administration Mode.
In & Out Board Users
Employees using the In & Out Board for punching time can follow the simple steps below to clock in or out:
Click a user's name on the In & Out Board.
Select either Start or Stop.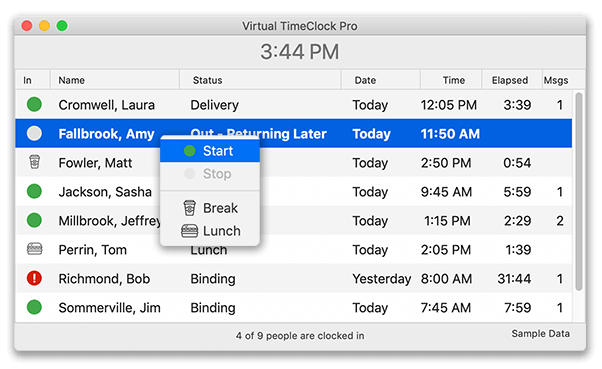 If required, enter a password and press Enter. Learn more about Passwords & Security.
Note: If you see a red '!' dot next to a user's name, review the Missed Clock Out Error article.
PIN and Passcode Users
Users assigned to a PIN or Passcode interface can follow these steps to clock in or out:
Enter the user's PIN or password in the TimeClock window and press Enter.
On the User Status window, select either Start or Stop.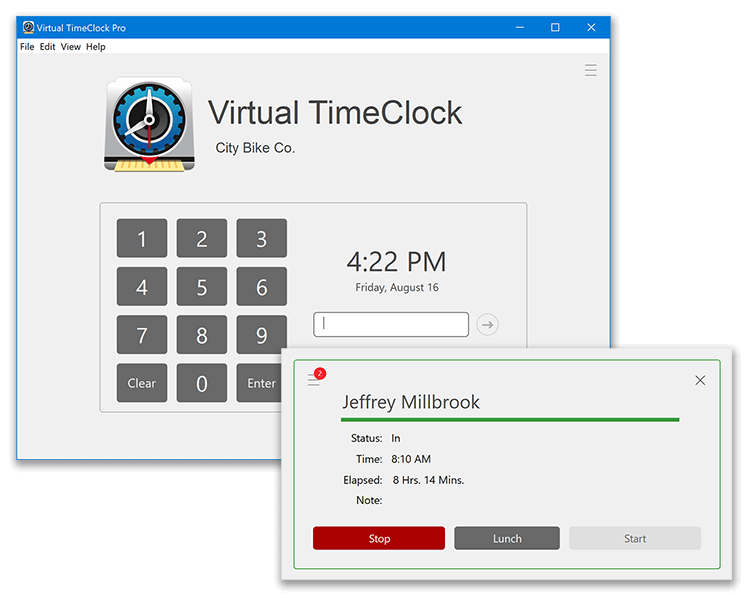 After clocking in or out, the User Status window will automatically close allowing the next worker to use the time clock.
Clocking Users In & Out as Administrator
In Administration Mode, administrators and managers have the ability to manually adjust the punch time and quickly clock users in and out. To learn more, see the Manually Adding Timecard Entries Knowledge Base article.
Note: Administration Mode will always display the In & Out Board, even when employees are using the PIN or Passcode interface.