Skip to content
Virtual TimeClock Knowledge Base
Manually Adding Timecard Entries
Virtual TimeClock allows you to quickly and easily add a manual entry to a timecard. There are two primary ways to add a manual entry. If a user forgets to punch in or out for the day, you can use the In & Out Board to add the missed punch. To add an entry for a prior day, you can use the Add Entry option. This article will walk you through both ways of adding punches. Adding Breaks and Lunches is covered in a separate article.
Note: To learn about editing existing entries, review the Editing Timecard Entries article.
Adding a Missed Start or Stop Entry
If you just need to add a missed punch in or punch out, follow these simple steps:
Select Turn Administration On from the File menu.
From the In & Out Board, click on the user with the missed punch.
Choose Start or Stop from the menu.
Modify the Time field with the correct time.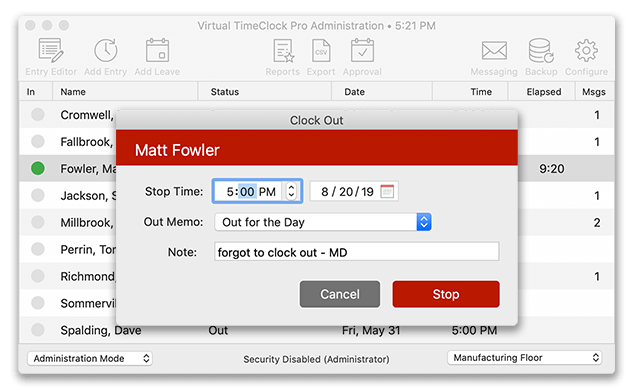 Click the Start or Stop button to save.
Check the In & Out Board to verify that the entry you created is correct.
Adding a Timecard Entry
Follow these steps to add a new entry:
Note: If you need to add an entry in a period that's already closed, you will need to reopen the period first.
Select Turn Administration On from the File menu.
Choose Add Entry in the administrative toolbar.
Select a user and fill out the entry details.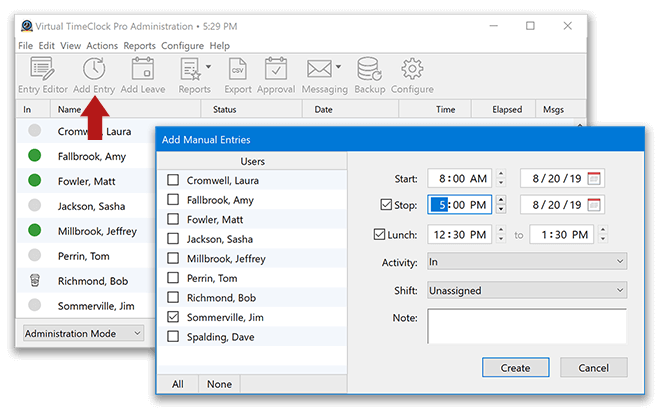 Select Create to add the new entry.
Select Save & Next to add another entry, or Save & Close to finish.
Once you've added a new timecard entry, it's a good idea to review the user's timecard to ensure that the entry was created properly.