Virtual TimeClock Knowledge Base
Clocking In & Out – Basic Edition
Virtual TimeClock Basic Edition makes it easy for employees to clock in and out of the time clock. After punching the clock, users can check their real time status, view their timecard and complete other user actions. This article will cover how employees clock in and out and how administrators can clock users in and out.
Clocking In & Out as a User
Users can follow these simple steps to clock in or out:
Click a user's name on the In & Out Board.
Select either Start or Stop.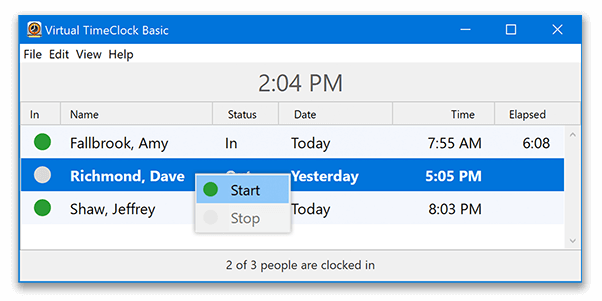 If required, enter a password and press Enter. Learn more about Passwords & Security.
If you see a red '!' dot next to a user's name, review the Missed Clock Out Error article.
Clocking Users In & Out as Administrator
In Administration Mode, administrators and managers have the ability to manually adjust the punch time and quickly clock users in and out. To learn more, see the Manually Adding Timecard Entries Knowledge Base article.