Virtual TimeClock Support Blog
---
Location Tracking Using Activities
Companies with multiple locations often have employees who move between locations throughout the day or week. Tracking employee hours and overtime by location can be challenging but essential when labor costing and other administrative tasks are tied to a particular business location.
Many companies need to track work by location in order to properly pay their employees. This is especially important when employees are entitled to premium pay or shift differentials for working an extra shift at a particular location.  Part-time employees may have a limit of hours to work at each location.
Fortunately, Virtual TimeClock's Activities features make it easy to maintain a single employee timecard that also tracks hours according to work location. The Activities features simplifies accounting by automatically separating hours out by location on user timecards and on an Activity report.
Setup Overview
Setup Virtual TimeClock Network Edition for location tracking starts by creating an Activity for each business location or unit. The various locations are then assigned to Display Groups for each Virtual TimeClock Client. Each time an employee begins work at a location, a Display Group assigned to the computer at that location can automatically assign the location name to each timecard entry. If the computer is a laptop or tablet that travels with the worker, their Display Group allows the user to select a current location as they clock in or change activity when they arrive at a new location. As worker time is recorded, Virtual TimeClock uses the activity/location to also assign the hours and overtime to the location.
When employees record their time tied to your locations, you can easily create and modify detail or summary reports of hours and overtime for each location for any data range. In addition, it's super easy to automatically get a subtotal of hours by location on the bottom of an employee timecard. See the following example: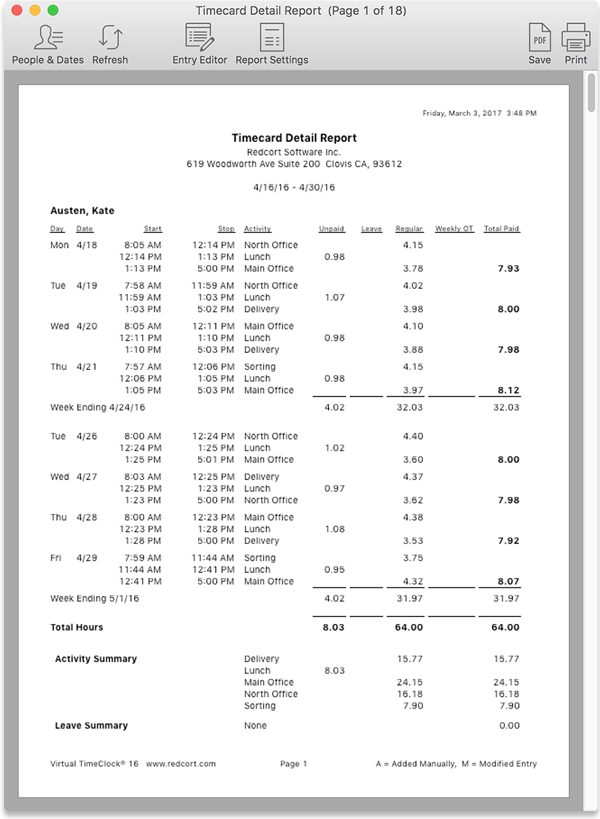 How to Create and Assign Activities 
If you're new to activity tracking in Virtual TimeClock, review the following Knowledge Base articles to help you get started:
Note: If you have an activity/location called 'North Office', make it available and the default activity for the time clock at the North Office. Make sure the correct activities are available for each group/location by selecting Display Groups from the Configure menu and choosing the group in the left column. Select the Activities tab to make changes to available activities. Any changes to display group settings are made at a group level, so make the correct changes to each appropriate group.
Note: Run an Activity Detail (Reports menu in administration mode) to see all the timecard entries per location for any date range. The Timecard Detail will sort entries by user.
Note: Include an Activity Summary at the bottom of the user timecard to total the hours an employee worked on each activity during the payroll period. You can easily see hours separated by activities that you can then enter into your payroll program. To activate this feature on your timecards:
Select Turn Administration On from the File menu.
Select Report Writer from the Configure menu.
Select your worker timecard report in the list on the left.
Activities Column - Click Report Options and check Activities in the Include column section.

Activity Summary - Click Report Options and check Activity Summary in the Summary Totals section.