Virtual TimeClock Knowledge Base
Basic Edition Security Settings
Virtual TimeClock Basic Edition includes important security and permission settings in one window for quick access. This article will cover how to access Basic Edition security options and provide information on each setting.
Accessing Basic Edition Security Settings
Follow these steps to access Basic Edition security and password settings:
Select Turn Administration On from the File menu.
Choose Security from the Configure menu.
Password Settings
Password Rules allow you to control user password creation by enforcing specific password rules. These settings will apply to user, manager and administrator passwords.
Interface Settings
The first tab, Interface, allows you to make changes to how the In & Out Board is displayed for users. Unchecking any of the List Column options will hide that column from the In & Out Board.
Note: Changing columns will only affect User mode. To see changes, select Turn Administration Off from the File menu to enter User mode.
Right Click for User Actions menu - turning this off will disable the right-click User Actions menu and limit employees to only punching in and out.
Missed Stop Error - find out more about this setting in our Missed Clock Out Knowledge Base article.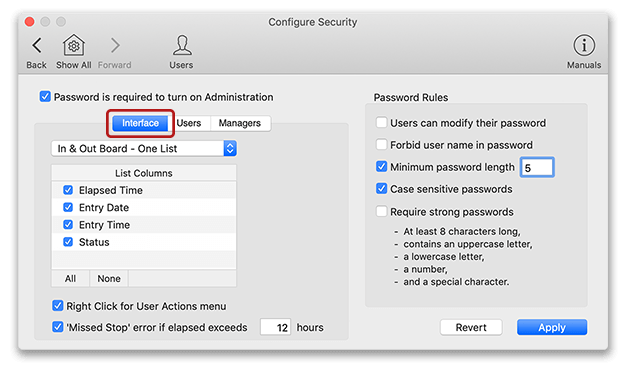 User Settings
The Users tab allows you to make changes to employee permissions. You can allow employees to add manual timecard punches, edit existing punches or allow users to clock in and out without a password.
Note: If you enable adding or editing timecard entries, the right-click User Action menu must be enabled from the Interface Settings outlined above.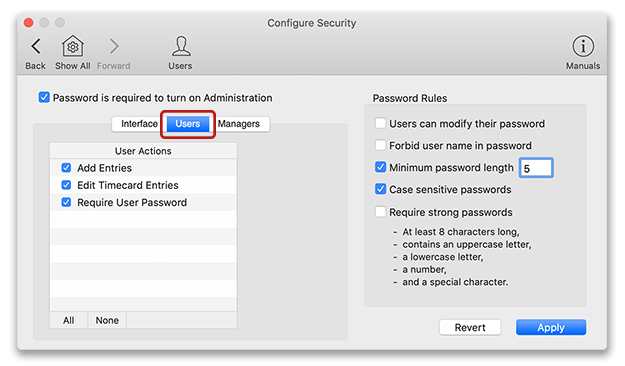 Manager Settings
Time clock manager permissions are available in the Managers tab. Manager settings are broken down into two categories:
Manager Actions - manager level actions that are available in the main admin toolbar.
Manager Access - system level settings that will be available under Configure menu.
For more information on adding managers, see the Adding & Removing Managers article.