Virtual TimeClock Knowledge Base
Virtual TimeClock has several pre-configured reports that make reviewing PTO and leave information quick and easy. All reports in Virtual TimeClock automatically adjust information visibility based on the access permissions of the user. This means that managers can only see leave for users in their groups, and employees can only review their own leave. Leave reports are based on previously entered leave entries. You can learn how to add leave entries here.
In Virtual TimeClock there are several types of PTO and leave reports, including:
Accrued and Used Leave
Provides a summary of leave awards from the anniversary day to the current date, including: number of hours accrued, number of hours used, any carryover hours from the prior benefit year, and the current balance for each leave category. To use this report both leave categories and leave awards must be setup.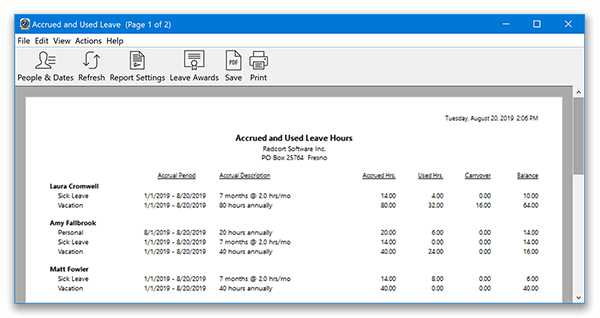 Worker Leave
Provides a detailed report of all leave taken by an employee for any period of time.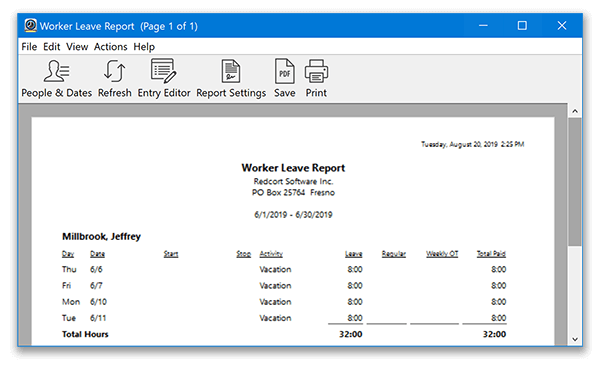 Leave Detail
This report is similar to the Worker Leave report and shows a detailed leave report for any period of time. However, information is grouped by leave category instead of by employee.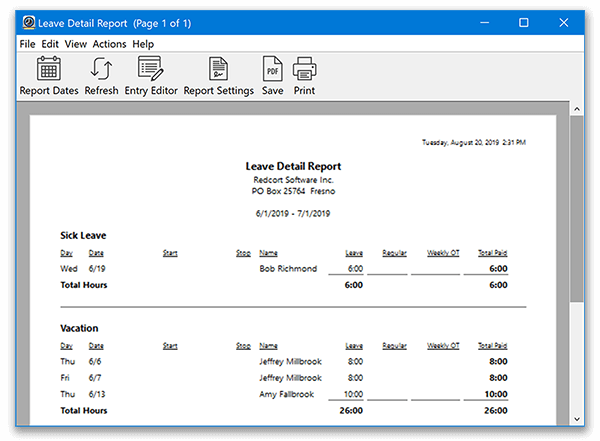 Leave Summary
Provides a high level summary of all leave hours taken for any period of time.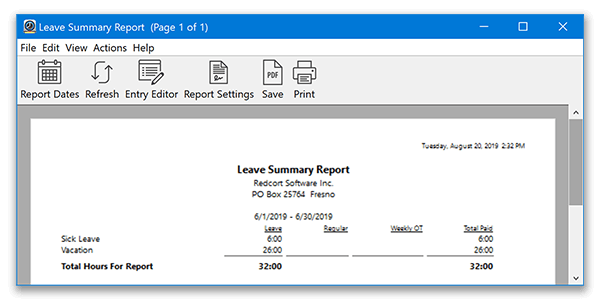 PTO Reporting for Employees
By default, employees have access to the Accrued and Used Leave report and the Worker Leave report. When combining these two reports employees can review how many leave hours they have available based on leave award settings, how much they have used, and exactly when they used it. Here's how an employee can access their leave reports:
In & Out Board
Employees can right-click on their name and select a leave report from the Worker Reports option.
Change the date range for reports by clicking the Report Dates icon in the toolbar.
PIN or Passcode Interface
Employees enter their PIN or passcode to access their time clock actions.
Click the User Actions hamburger menu in the upper left corner and select a leave report from Worker Reports.
Change the date range for reports by clicking the Report Dates icon in the toolbar.
PTO Reporting for Managers and Administrators
By default TimeClock managers have access to all four leave reports, and can only see the information for users in groups they manage. Administrators always have full access to reports and all user information. Both managers and administrators can access leave reports by:
Selecting Turn Administration On from the File menu, choosing their name from the dropdown menu, and entering their password.
Choose the report from the Reports program menu.
Change the users or dates by clicking the People & Dates icon.
Once you've learned how to use reports to review your leave information, we have some tips for setting up your first leave benefit year. Learn how to set up leave tracking mid-year >