Skip to content
Virtual TimeClock Knowledge Base
Overview of Leave Tracking
Virtual TimeClock makes it easy to track all employee time off, whether it's paid or unpaid. Common types of leave include holidays and sick leave, but you can set up leave tracking according to your own employee leave or time off policies. There is no limit to the number of leave categories. Some common additional leave categories you can add are jury duty, military leave, the Family & Medical Leave Act (FMLA), Paid Time Off (PTO), mandatory furlough, and leave required by city or state law. This feature is for Pro and Network users only.
Below is an example of an Accrued & Used Leave Report, which displays current leave awards, used hours and the balance. Users, managers and administrators can view this report to see the balance of leave hours for any employee. The Accrued & Used Leave report is just one example of how the leave tracking feature of Virtual TimeClock can be used in your organization. Continue reading to learn more about the benefits of leave tracking with Virtual TimeClock.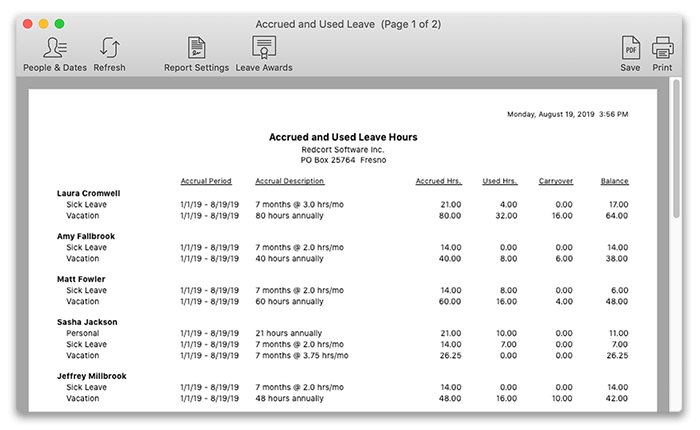 Leave Categories 
Virtual TimeClock includes several common leave categories such as holiday, personal, sick leave, and vacation. You can add as many additional leave categories as you need to fit your leave tracking needs. Learn more about leave categories >
Customizable Leave Awards
Once leave categories have been added to match your business policies, custom awards can be created for each user. Virtual TimeClock allows for each user's leave category to have a unique anniversary date, award amount, award frequency, and carryover. Additionally, if you track leave hours based on hours worked you can set a maximum leave award to limit how many hours employees can accrue. The software also provides multiple options for leave award frequency, including daily, monthly, yearly, and by number of hours worked. Learn more about leave awards >
Manage Leave Requests
Employees can request time off using the internal TimeClock messaging system making it easy for administrators and managers to enter leave hours into the TimeClock. Administrators and managers can then review the requests, manually enter them into the TimeClock, and reply to the employee that their request was approved or denied.
Entering Leave is Easy
The process of entering leave hours for employees is simple, and can even be done for multiple employees all at once. You can enter future entries for employees for business holidays or planned vacations. An option can also be enabled in the TimeClock that allows employees to enter their own leave. Learn more about entering leave >
Powerful Leave Reporting
Virtual TimeClock has several preconfigured reports to make reviewing leave details easy. All reports in the program automatically adjust information visibility based on the access permissions of the user. This means managers can only see leave details for users in their groups, and employees can only review their own leave information. When combining these two reports employees can review how much leave they have remaining, how much they have used, and exactly when they used it. Learn more about reporting leave >  
Starting Leave Tracking Mid-Year 
Virtual TimeClock offers the flexibility of implementing leave tracking at any point throughout the year. Leave awards for users is based on benefit year anniversary dates, but you do not have to wait to start leave tracking until a user's anniversary date. It is easy to get started tracking leave mid year, but there are some considerations to make, so start thinking about how to begin implementing leave tracking in your organization. Learn about starting leave tracking mid-year > 
Year-End Leave Carryover
Virtual TimeClock does not automatically rollover employee's leave hours. At the end of the benefit year a manager or administrator will need to run the Accrued and Used Leave Report to review employee leave balances. The accrual rates will need to be updated based on your business rules and the appropriate carryover hours will need to be manually entered. Once hours are carried over, the new benefit year will begin and the carryover hours will be visible on the Accrued and Used Leave report. Learn more about leave carryover >