Virtual TimeClock Knowledge Base
---
Configuring Power Settings
Most modern computers have a variety of power settings that allow the computer to conserve energy when it's not being used. Several of these energy saving features will cause a Virtual TimeClock Server computer to stop responding to the TimeClock client computers. The following article will help you properly configure your power settings to ensure uninterrupted communication.
How Power Settings Impact Virtual TimeClock
In Virtual TimeClock Network Edition, all time clock data is stored on one central computer that runs the TimeClock Server program. The TimeClock Server "serves" (stores and distributes) time clock information to each of the individual TimeClock clients, allowing users to punch in, punch out, check timecards, etc. The server to client connection means that when there are disruptions to the TimeClock Server, the clients will lose communication and be unable to perform standard time clock functions.
Configuring Energy & Power Settings
Select your operating system platform below and modify the power settings on the Virtual TimeClock Server computer.
Microsoft Windows PC
In the Control Panel, select Power Options.
Under Preferred Plans, select Change Plan Settings for the selected plan.
For Put the computer to sleep, select Never.
Select Change advanced power settings. Set the following sleep settings and click Apply:
Turn off hard drive after _ minutes: Never
Sleep after _ minutes: Never
Allow hybrid sleep: Off
Hibernate after _ minutes: Never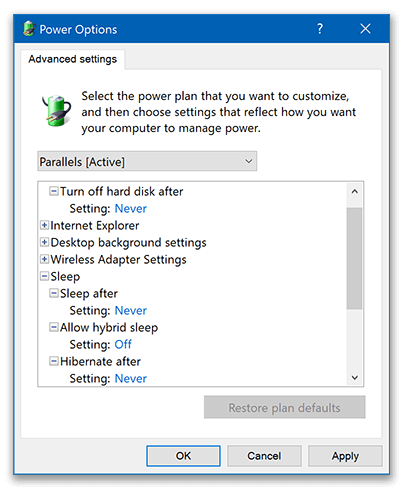 Apple macOS Computers
Select System Preferences from the Apple menu.
Select the Energy Saver menu item.
Select Prevent computer from sleeping automatically when the display is off.
Deselect Put hard disks to sleep when possible.
Select Wake for network access.
Select Start up automatically after a power failure.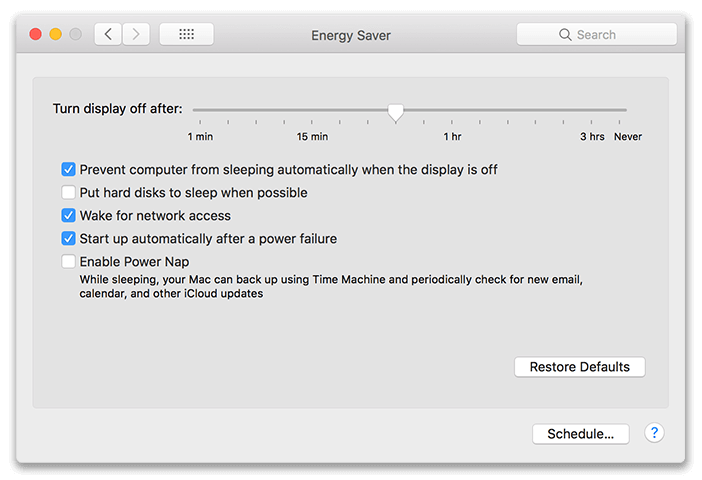 While the settings above may vary slightly based on particular operating system, it is essential to adjust the power and sleep settings to make sure the TimeClock Server computer does not go to sleep and break communication with the TimeClock Clients.