Virtual TimeClock Knowledge Base
---
Virtual TimeClock makes it easy to track the time users spend on breaks and lunches. This article will guide you through configuring the break and lunch buttons, how employees use the break and lunch buttons, how to manually add a lunch and information on setting up lunch shift rules.
Note: The ability to track breaks and lunches is not available in the Virtual TimeClock Basic Edition.
Configuring the Lunch & Break Buttons
If you want to use the Break and Lunch buttons, it's important to configure how the buttons will function. Changes to the lunch and break settings will update all timecards in the current period. Follow these steps to configure the buttons:
Select Turn Administration On from the File menu.
Choose Breaks & Lunches from the Configure menu.
Modify the default settings to match your policies.
Report Label - determines how the break or lunch will appear on reports. This does not change the text of the button.
Paid - select this option if the entire break or lunch is paid, no matter how long.
Paid with a limit of - allows you to control how much of the break or lunch is paid. Any time over this amount will be unpaid.
Unpaid - select this option if none of the time spent on break or lunch will be paid.
After making any changes, simply close the Configure Breaks & Lunches window to save your changes.
Using the Lunch & Break Buttons
Workers will have the option to use the lunch and break buttons whenever they use the time clock.
Employees who use the In & Out Board will click their name and select Break or Lunch from the start menu.
PIN and Passcode users will login to the time clock as usual and select Break or Lunch from the User Status window.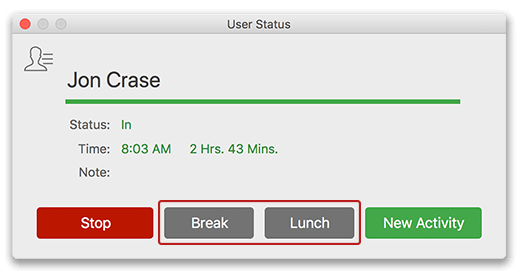 When employees return from a lunch or break, they will simply click Return on the time clock.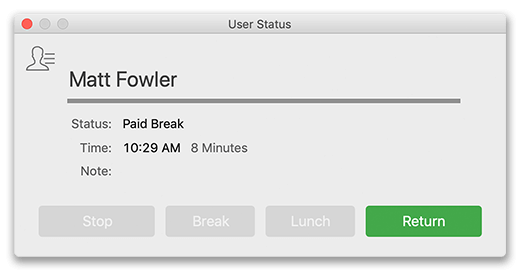 Manually Adding Breaks and Lunches
There are two ways to manually add breaks or lunches to an employee timecard: as an administrator or as a user.
Administrators can turn on administrative mode to add lunches and breaks. For more information, review the Manually Adding Timecard Entries article.
Users can be given permission to add their own breaks or lunches, although this would be a rare practice. To learn more, review the Users & User Permissions article.
Use Shift Rules to Control Lunch Breaks
If you need to control lunch breaks to prevent unwanted overtime or extended lunches, review the Overview of Shifts & Schedules article to find out more about setting up Lunch Rules.
Disabling the Lunch & Break Buttons
By default, the break and lunch buttons in Virtual TimeClock are enabled. To disable one or both of the buttons, review the Display Group General Settings article.