Virtual TimeClock Support Blog
---
Stay Compliant with Employee Lunch Break Laws
With the rise in lunch and break violation lawsuits over the last few years, including hefty fines to Apple, Wells Fargo and Albertsons, it's more important than ever to understand the lunch and break laws in your state and make sure you are in full compliance with the law. This article will outline several ways Virtual TimeClock employee time clock software can help you stay compliant with the law and avoid extra payroll costs or expensive lawsuits.
Know your state break laws
We provide a free State Laws for Lunch & Meal Breaks resource that breaks down lunch and rest break laws by state. Since every state has different rules regarding breaks, it's critical that you understand the laws that pertain to your state.
What does it mean to 'provide' a lunch break for employees? In 2012, the California Supreme Court found that "employers are not required to police employees to ensure they don't work during a break. As long as employers offer employees one or two thirty-minute breaks (depending on how many hours they work) and allow employees to leave the worksite, the employer has met their meal break obligation."1 While you can't force an employee to take a break, you must offer and provide opportunity for meal and rest breaks to be taken completely free of work responsibilities and work engagement.
Require lunch be taken on time
Some states require employers to provide a meal break within a certain number of hours. For example, California and Colorado both require that lunch breaks be provided within the first 5 hours of work during a full work day. If your business wants to ensure employees are taking their meal breaks on time, you can use Virtual TimeClock lunch rules to notify employees when they start their lunch too late and affirm that they were not impeded from taking the break. Learn more about lunch rules by reviewing the Lunch Shift Rules article.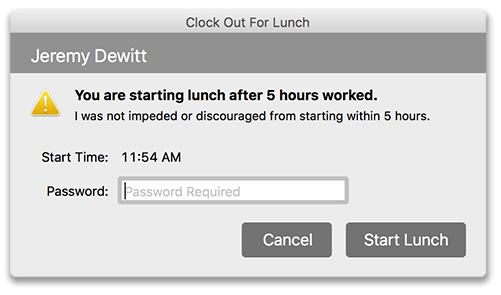 Enforce full lunch breaks
You may want to require that full lunch breaks are being taken by employees so that there are no disputes regarding short lunch breaks on timecards. In Virtual TimeClock you can set the length of a lunch period and require employees take a full meal break.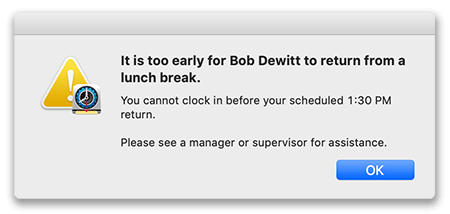 Another option is to allow employees to return early from lunch while acknowledging that they won't begin working until the end of their break period.
Collect employee signatures
Another helpful way to document lunch and rest break compliance is with employee timecard approval. If your employees print and sign timecards, you can customize a timecard signature that employees will sign off on when turning in their timecards. The signature can be customized to suit company policy, but the default text states that the employee was provided with all meal and rest breaks. Read more about timecard signatures.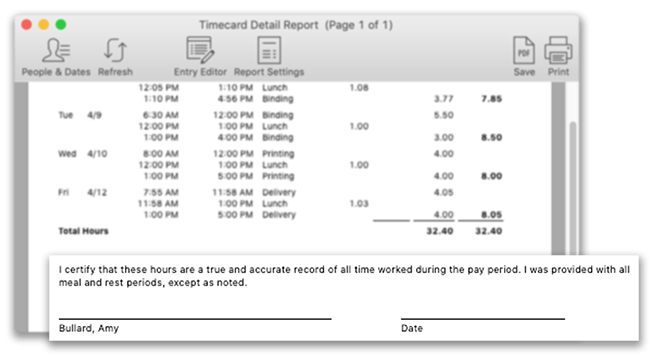 Note: The Electronic Timecard Approval feature also includes standard signature text that states: "My electronic timecard accurately reflects all hours worked. I was provided with all meal and rest periods, except as noted on my timecard." The electronic approval is stored in the program logs for later retrieval if needed.
In this article, we've outlined several ways to use Virtual TimeClock to ensure you stay compliant with state lunch break laws. Once you know the specific lunch laws in your state, you can settle on a method for tracking lunch break compliance. Virtual TimeClock provides lunch rules and customizable timecard signature text to help you document lunch law compliance. If you have any questions regarding how to track lunch and break laws, drop us a note or give us a call and we'd be happy to help.
1. Berger Montague, California Meal Break Law Class Action Lawsuit