Virtual TimeClock Knowledge Base
The Messaging feature of Virtual TimeClock allows you to communicate with your employees in a spam free, self-contained messaging system for open and fast communication. The Messaging feature comes without the common drawbacks of traditional systems because important information is kept safe and separate.
Note: This feature is only available in Virtual TimeClock Pro and Network Editions.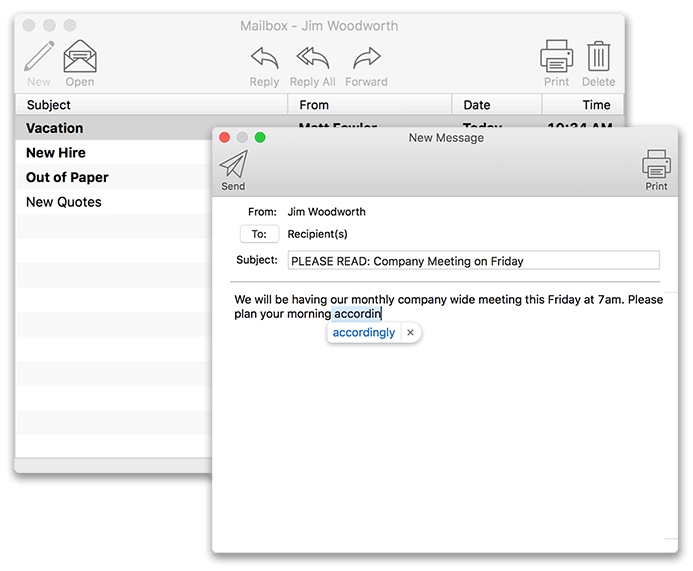 Common Uses of the Virtual TimeClock Messaging Feature
The possibilities are endless for utilizing this feature in your organization, so experiment and find which works best for you.
Leave/Vacation Requests – Employees can request days off by using a subject like "Vacation Request" and include the requested dates in the body of the message. Managers can reply to requests by adding "Approved" or "Denied" to the subject line.
Note: Managers or administrators need to manually add the leave entry. The Messaging feature only informs managers/administrators that a user is requesting time off. Sending a message back saying Approved does not mean the entry is entered in Virtual TimeClock.
Correcting Timecards – Employees can notify managers of missed punches or clarify timecard hours. For example, "I forgot to clock in this morning, can you please change my start time to 8am?"
Company Announcements – You can also notify employees of accomplishments, scheduled meetings, or changes in office protocol. Verify employees have read important notices by requesting that they reply back with the word "OK" appended to the subject line. Messages can be printed for your records and will stay saved in the messaging system as long as they are not deleted.
Work Alerts – Alert employees to changes in their schedule or project priority. For example, "Melanie, you'll start tomorrow assisting on the Smith Case."
Set Up and Use Messaging in Virtual TimeClock