Virtual TimeClock Support Blog
---
Tracking Worked Holiday Hours
Do your employees earn premium pay or extra overtime when they work on business holidays? Do you need to track when your employees work on holidays? This article will explain how you can use the Activities feature in Virtual TimeClock to easily track, view and report these unique payroll issues.
Note: If you are not familiar with activity tracking, see our Overview of Activity Tracking.
Create a New Activity
To track hours worked during a holiday, start by creating a new activity for employees to track time with. Follow these steps:
Select Turn Administration On from the File menu.
Choose Activities from the Configure menu.
Click Add to create a new activity. Give the new activity a name, such as Worked Holiday.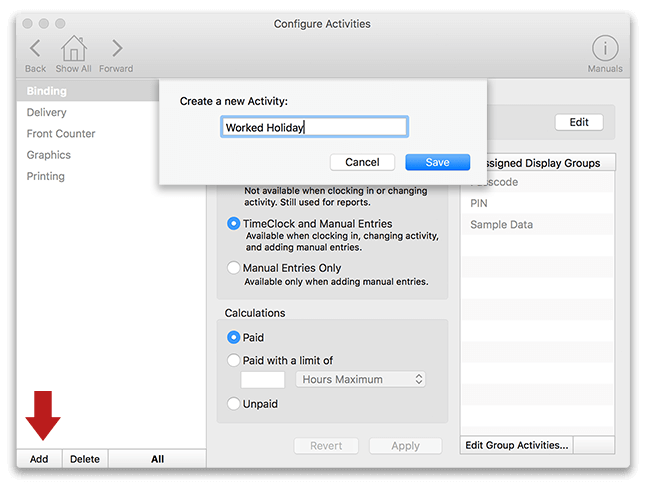 Tip: If you want to track employee hours for a particular holiday, name the new activity something unique like Worked Christmas Day.

Tracking Worked Holidays
When users work on a holiday, they will choose the 'worked holiday' activity from the Activity pop up menu when they punch in. If a user chooses the wrong activity by mistake, an administrator can correct the entry at any time.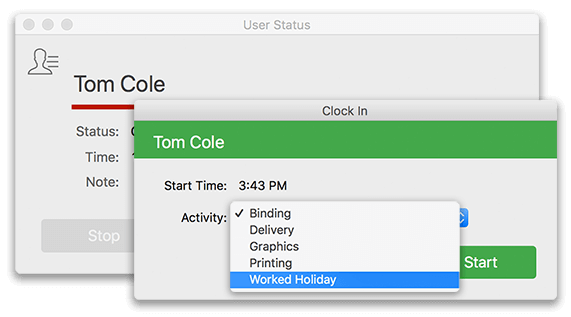 Viewing & Reporting Worked Holidays
When hours are a punched with an activity, there are a couple ways to view those hours. You can view worked holiday hours on the employee's timecard, or view an activity report.
Timecards
Select the worker's timecard and look for the Activity Summary section at the bottom of the report:
You'll enter each worker's total holiday hours in the premium/holiday rate section of your payroll system.
Tip: If the worker timecard does not automatically display activities, see the Reporting Activities article to configure your timecards correctly.
Activity Report
Run an activity report to quickly see the workers and hours recorded for the holiday activity:
Select Turn Administration On from the File menu
Choose Activity Detail from the Reports menu.
The TimeClock will sort timecard entries by activity and display them accordingly.
Turning Off Holiday Activity
After the holiday, you can easily remove the holiday from your employee time clock in the Activity list:
Select Turn Administration On from the File menu.
Choose Activities from the Configure menu.
Select the activity in the left column and change the Status to Inactive.
Tip: You cannot delete an activity that has been used for recording entries. Making the activity Inactive retains it for historical entries, while making the activity unavailable to users when clocking in or changing activities.
See our Federal Holiday and US Business Holidays calendars for current holiday dates.