Virtual TimeClock Support Blog
---
Electronic Timecard Approval Disappeared
If you've been using the Electronic Timecard Approval for employee timecards, and workers are suddenly unable to see the approval option on their timecard, it's possible the report settings for your default timecard have been changed. This brief article will explain how to check these report settings to fix the problem.
Note: Before following the steps below, make sure your payroll period settings and electronic timecard approval options are configured correctly. Electronic approval is only available in User Mode, so make sure you turn off Administration Mode to see the approval option on a timecard.
Check Report Settings
Follow these steps to review report settings:
Select Turn Administration On from the File menu.
Choose Report Writer from the Configure menu.
Select the Timecard Detail report from the list of reports and check the two settings below:
Make sure the Report Type is Detail
Click Selection & Sort - for Entries make sure All Entries are selected.
Under Date Range ensure that Current Period is selected.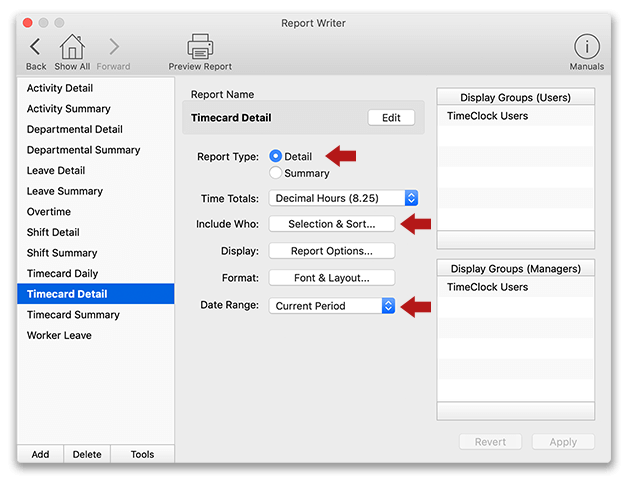 Tip: When you need to view timecard reports for dates outside of the current period, use the People & Dates option in the timecard toolbar, instead of changing Report Writer settings.
Check User Settings 
Once you have reviewed the Timecard Detail settings, if the electronic approval option is still not displaying for certain employees, make sure their employment status is correct. The Hourly worker timecard approval setting is for hourly employees, so any workers set to Salary will not have the approval option. To check a user's employment status, follow these steps:
Choose Users from the Configure menu.
Select an employee from the list and go to the Employment tab.
In the Wage section, make sure the user is set to Hourly.
After updating the report and user settings, you should now be able to see the timecard approval option in user mode. If you have any questions, don't hesitate to reach out for support.