Virtual TimeClock Knowledge Base
Virtual TimeClock Free Trial
Virtual TimeClock is a powerful, easy to use employee time clock software for employee time and attendance tracking that runs as a desktop software on your Mac and Windows computers.
Purpose
The Virtual TimeClock free trial is a great way to try out and evaluate the software on your computer before you purchase it. Our Basic, Pro and Network editions of Virtual TimeClock are all available as a free trial. 
Our Basic and Pro editions include a sample company that allows you to run reports, edit timecards, and explore features. Our Network Edition trial allows you to setup and test Virtual TimeClock in your network environment and configuration.
While the free trial was not designed for production deployment, it can be deployed for small companies or a pilot group of employees in larger companies. See the limitations below.
Benefits
Try before you buy
All downloads are the fully functional versions of Virtual TimeClock that allow you to explore all of the program features and functions on your computer.
Free training & support
Our California based support team is glad to help you get started using Virtual TimeClock.
Register your trial anytime
There's no need to start over after your free trial. Purchase a license key for your installed software and it's yours to use forever. It's that easy.
Limitations 
When Virtual TimeClock is installed without license key, the software runs for a limited time as a fully functional free trial with the following limitations:
An evaluation reminder will print at the top of all reports.
The software is limited to 300 entries (200 for Basic). This includes punching in out and creating manual entries.
Reminders are shown periodically to remind you how many punches remain in your free trial. They increase in frequency as you get closer to the end of your free trial.
If all free trial entries are used, a license key is required to continue using the time clock or reporting functions.
Important Note: Free trials may only be used once and cannot be renewed or extended.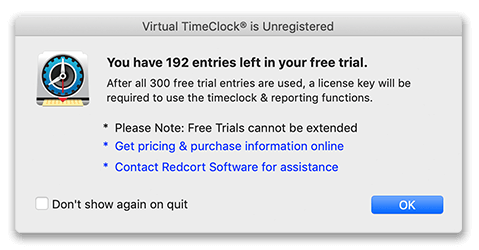 Download
You can download a Virtual TimeClock free trial today without any cost or obligation. No credit card required.