Virtual TimeClock Support Blog
---
What does "not optimized for your Mac" mean?
UPDATE: Virtual TimeClock 19 is now available as a native 64-bit application. For more information, see the Version 19 release notes.
MacOS users recently started seeing an informational message after launching many of their favorite applications. When you launch Virtual TimeClock you may see a message from Apple that says, "Virtual TimeClock is not optimized for your Mac. This app needs to be updated by its developer to improve compatibility."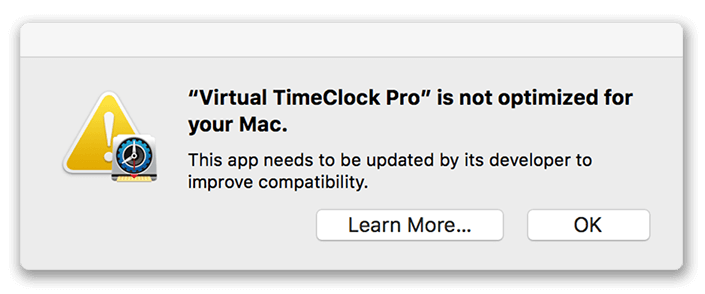 What does Apple's "not optimized" message mean?
This message is informational and does not indicate any change in how your TimeClock software is performing. Apple says this message gives users "advance notice that they are running 32-bit software which will not be compatible with macOS in the future." This is Apple's not-so-subtle way of encouraging software developers to migrate their 32-bit applications to the new 64-bit architecture. Read more about the message from Apple's website.
Why should I care about 64-bit apps?
For decades, all computer programs used a 32-bit architecture. Over the last several years, Apple has been transitioning their operating system and applications from a 32-bit to 64-bit platform. The 64-bit architecture was developed primarily as a way to allow programs to use the huge amount of memory available on modern computers. This has been a tremendous help for memory intensive programs like video editing and computer games. On the other hand, Virtual TimeClock, like most business software, runs without any noticible change as a 32-bit or 64-bit program.
What about Virtual TimeClock?
We will be updating all of our Virtual TimeClock applications (for both Mac and Windows) to a 64-bit architecture. At this point, the majority of our work is thorough testing to ensure 100% compatibility and reliability of all our 64-bit applications and components.
As a software company with over 3 decades of Mac development, this isn't the first major technology transition with Apple. In 2001, we migrated Virtual TimeClock from running on Apple's original OS to their new Unix based OS X operating system. About a decade ago we again migrated Virtual TimeClock from running on Apple PowerPC chips to their new Intel based chips.
Most of our users aren't concerned about the underlying technology changes, they just want to continue using Virtual TimeClock on Apple's newest computers. Once again, we'll have you covered.