Virtual TimeClock Support Blog
---
Virtual TimeClock & macOS Catalina
Apple has officially released their latest operating system, macOS Catalina. As we announced early last year, this release represents an important shift in how macOS will handle third party software moving forward, including Virtual TimeClock. With macOS Catalina, Apple has ended support for 32-bit applications, which means that only 64-bit applications will run on macOS Catalina and future Mac operating systems.
We've been preparing for this change for over a year and released 64-bit applications in Virtual TimeClock 19 earlier this year. Now that Catalina has been officially released, our development team is wrapping up version 19 release 2 which will provide official compatibility with macOS Catalina.
If you try to run version 19.1 or 19.1.1 on macOS Catalina, you will get a message stating Virtual TimeClock "can't be opened because Apple cannot check it for malicious software."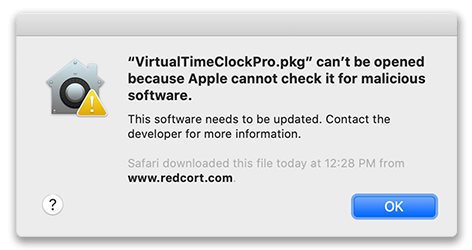 UPDATE: Version 19 Release 2 is now available. Version 19.2 is fully compatible with macOS Catalina.
Older version of Virtual TimeClock on macOS Catalina
If you upgrade to macOS Catalina with an older version of Virtual TimeClock, you will not be able to open or run the time clock. You will need to upgrade to Version 19 in order to continue using Virtual TimeClock on your computer.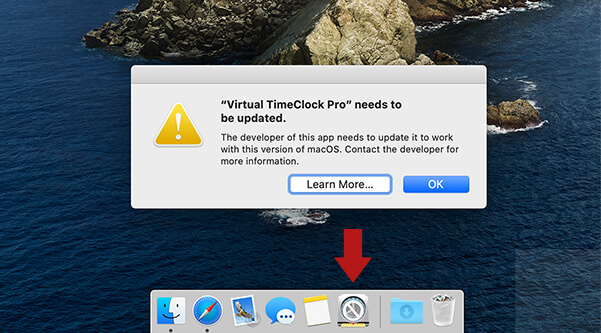 If you have any questions about Virtual TimeClock and macOS Catalina, please get in touch with our technical support team and we're happy to answer any questions you have.