Virtual TimeClock Support Blog
---
Managing Late Employees with Virtual TimeClock
Almost everyone has been late to work at least once. However, when workers regularly arrive late to work it impacts everyone through lost revenue, increased stress, and lower morale in the workplace. Virtual TimeClock Pro has several tools to help employers impartially monitor and more easily manage employee tardiness.
Real-Time Monitoring & Reporting
The In & Out Board in Virtual TimeClock Network Edition provides employers with at-a-glance knowledge of each worker's current status. The timeclock display on the manager's computer is updated in real time as employees clock in, take breaks, change activities, and clock out at the end of a shift. ​The Current Status Report in Virtual TimeClock provides management a quick printed record of each worker's current status, activity, and date and time of their last punch.
To run a Current Status report:
Select Turn Administration On from the File menu to enter administrative mode
Select Current Status in the Reports menu.
Some businesses use Virtual TimeClock to help employees monitor their own tardiness. Workers can be required to review, note and acknowledge all late arrivals on their timecards before they sign and turn them in each payroll period.
Automatic Monitoring of Late Arrivals
Notifying and involving management at the moment a worker arrives late can be a significant challenge. Virtual TimeClock's powerful shift rules simplifies this problem with automatic monitoring of late arrivers. When an employee arrives late for a scheduled shift, the timeclock can be set with a grace period, followed by a notice preventing the worker from punching in and referring them to a manager or supervisor.
To set up a shift rule:
Select Turn Administration On from the File menu
Select Shifts… from the Configuration menu
Click on the Clock In Rules tab
Check the box next to "Prevent Late Start"
Enter the number of minutes for your grace period (the example shows 15)
Click Apply in the Shifts configuration window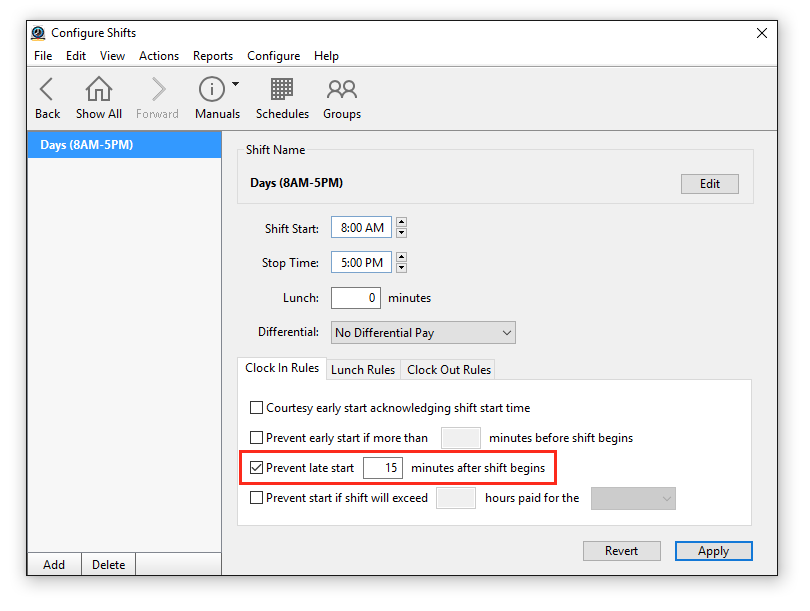 Shift rules are applied to either worker schedules or groups. If you are new to working with shifts in Virtual TimeClock, learn more here:
Late Arrival Report
Once shifts are applied to workers, Virtual TimeClock's Late Arrival report provides a powerful, instant summary of workers that arrived late for work. This exception report shows every infraction for a worker (or workers) for any period of time. The report includes the user name, date, shift, and how many minutes they arrived late for their shift.
To run a Late Arrival report:
Select Turn Administration On... from the File menu to enter administrative mode
Select Late Arrival in the Reports menu
These are just a few of the ways that Virtual TimeClock can help you manage and monitor employee tardiness. Drop us a note here if you have an idea or tip you'd like to share with other Virtual TimeClock users.