Virtual TimeClock Support Blog
---
Locating Your Time Clock Database File
In the unfortunate event of hardware failure on your Virtual TimeClock computer, you may be left with access to only the files on your hard drive, and not the programs installed. If you have access to your computer files, this article will explain how to find your original database which you can move to a new time clock computer.
Note: If you are using the Network Edition, the time clock database will be located on your TimeClock Server computer.
Default time clock database location
The default TimeClock Data folder location is listed below for both macOS and Windows. After navigating to the TimeClock Database folder, you should find a database file named TimeClock Database.vtcData.
Microsoft Windows:  Local Disk (C:)/Users/Public/Public Documents/TimeClock Data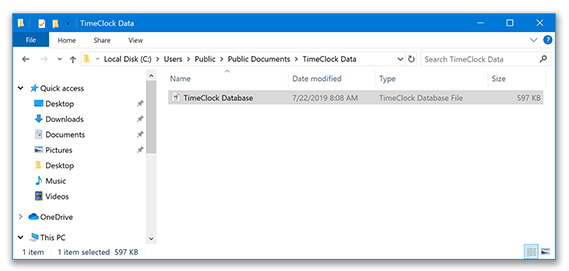 Apple macOS:  Macintosh HD > Users > Shared > TimeClock Data

Basic and Pro edition databases will always be found in the default location. If you are using the Network Edition and you do not find the database folder in the default location, this usually means that you chose a non-standard location for the database during installation. See the next section for more information on locating your database.
Finding your database in a non-standard location
If you do not find your time clock database in the default location above, you can review the Program Logs to find the last known location. Navigate to the Information logs and look for the most recent log that records Successfully opened SQL database followed by the database path. That is the last known path of your time clock database. Navigate to the listed path to locate your database.
Moving the database file
You will want to move the database to a USB drive or a network location that you can access it from the new TimeClock computer. After you install Virtual TimeClock on the new computer you will need to place the recovered database in the same location as the original database. Once the database is back in the TimeClock Data folder, you can close any open database and Open your original database.