Virtual TimeClock Support Blog
---
I Can't Close My Payroll Period
Every once in a while, we hear from new TimeClock users who are having a hard time closing their payroll period at the end of the pay cycle. In this article we'll cover the top 3 reasons you might not be able to close your payroll period and how to resolve each issue.
1. Include hours from all users
The payroll period cannot be closed until all time clock users with entries in the current period are signed off. Follow the steps below to make sure you're including all users with hours:
Select Turn Administration On from the File menu.
Select the All Users administrative group in the bottom left corner of the In & Board.
Select the Payroll Approval icon and follow the usual steps to sign off users.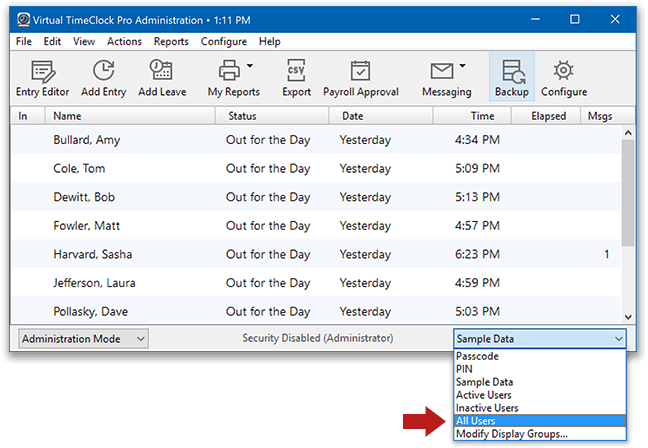 2. Fix timecard errors
When a user forgets to clock out at the end of their shift, their timecard will have a missed stop error marked in red. These errors must be corrected before the payroll period can be closed. See the Missed Stop Error article for instructions on correcting errors. After the error is corrected sign off your users and close the payroll period.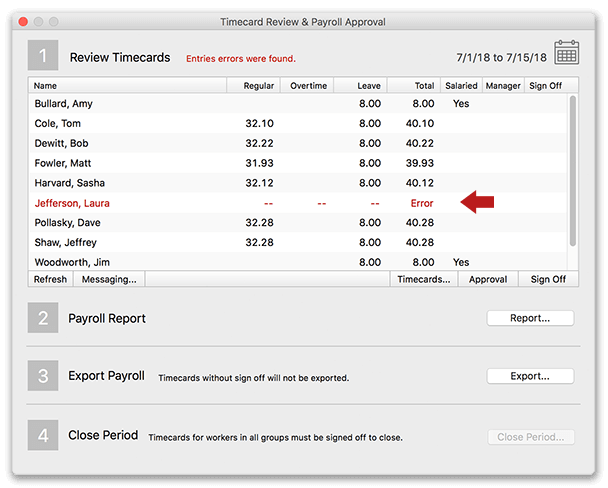 3. Update manager permissions
While any administrator can close the payroll period, managers must be given the proper permission to be allowed access to payroll approval. Review the Managers and Manager Permission article to learn more about manager access.
Select Turn Administration On in the File menu.
Choose Display Groups from the Configure menu.
Select the group you want to adjust and choose the Managers tab.
Note: Group must include all employees with hours in the current period.
In the Manager Modifications section, check the box for Close payroll periods.
If you are still having issues closing your payroll period, check to see if there are updates for your software that may have fixed outstanding bugs. Version 16 and earlier versions can check the downloads page for the most recent release. Make sure you select the correct version; if you are on Version 15.1, you can upgrade to Version 15.6, etc. Version 18 and newer, can use the check for updates option in the software.