Virtual TimeClock Support Blog
Exporting Program Logs
Virtual TimeClock's Program Logs are one of your most powerful tools for keeping track of important changes happening with your TimeClock. Program Logs can be used for anything from identifying network issues to tracking which administrator modified a timecard. Below are just a few of the things your TimeClock logs track:
Timecard modifications
Manual timecard entries
Records of every administrator login
Database backup history
TimeClock program errors
Network errors
...and much more!
Our technical support staff members will occasionally request the program logs to better troubleshoot your TimeClock. This guide will show you how to obtain and send your logs to the technical support staff member assisting you.
Step 1: Determine Your Edition of Virtual TimeClock
Accessing your Logs will look different depending on which Edition of Virtual TimeClock you are running. Not sure which edition you have? See our guide here.
Step 2: Locate Your Program Logs
Pro Edition
Turn Administration Mode On from the File menu.
Select Program Logs from the Configure menu.
Select "Export" from the bottom of the window and save the file to your desktop
Network Edition
Open the Virtual TimeClock Server Manager program.
Select the Logs tab from the toolbar.
Select "Export" from the bottom of the window and save the file to your desktop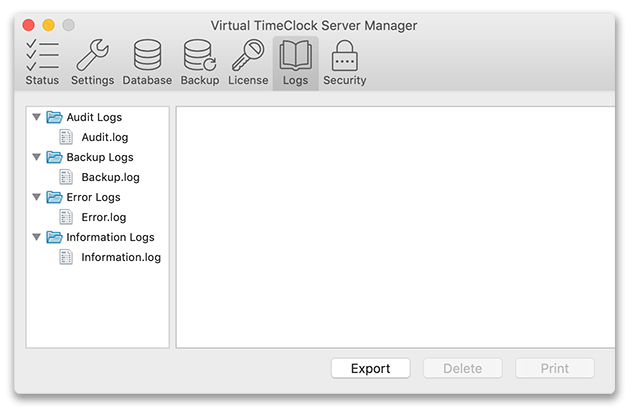 Step 3: Send the File
Right-click on the exported file and Zip (or Compress) the file. Then send it to our Virtual TimeClock representative through our Contact Form or the email address they provide.
If you need additional assistance, use our web form or give us a call. We're here to help!