Virtual TimeClock Support Blog
Can I Keep My Old Data When Upgrading My TimeClock?
We often receive questions from our customers about software upgrades and whether they will lose any data when they update their software or switch to a different edition of Virtual TimeClock.
Summary
Your database will be compatible with any newer or higher edition of Virtual TimeClock and can transfer between both Mac and Windows. With our Network Edition, the Virtual TimeClock Pro Client and User Client can be installed on both Mac, Windows, or both regardless of the Server Manager's operating system. See the below illustrations for more information.

Upgrading: The latest edition of Virtual TimeClock can accept databases back to version 1.
Downgrading: Because of the features added in our latest version, your database will NOT be recognized by an older version of Virtual TimeClock.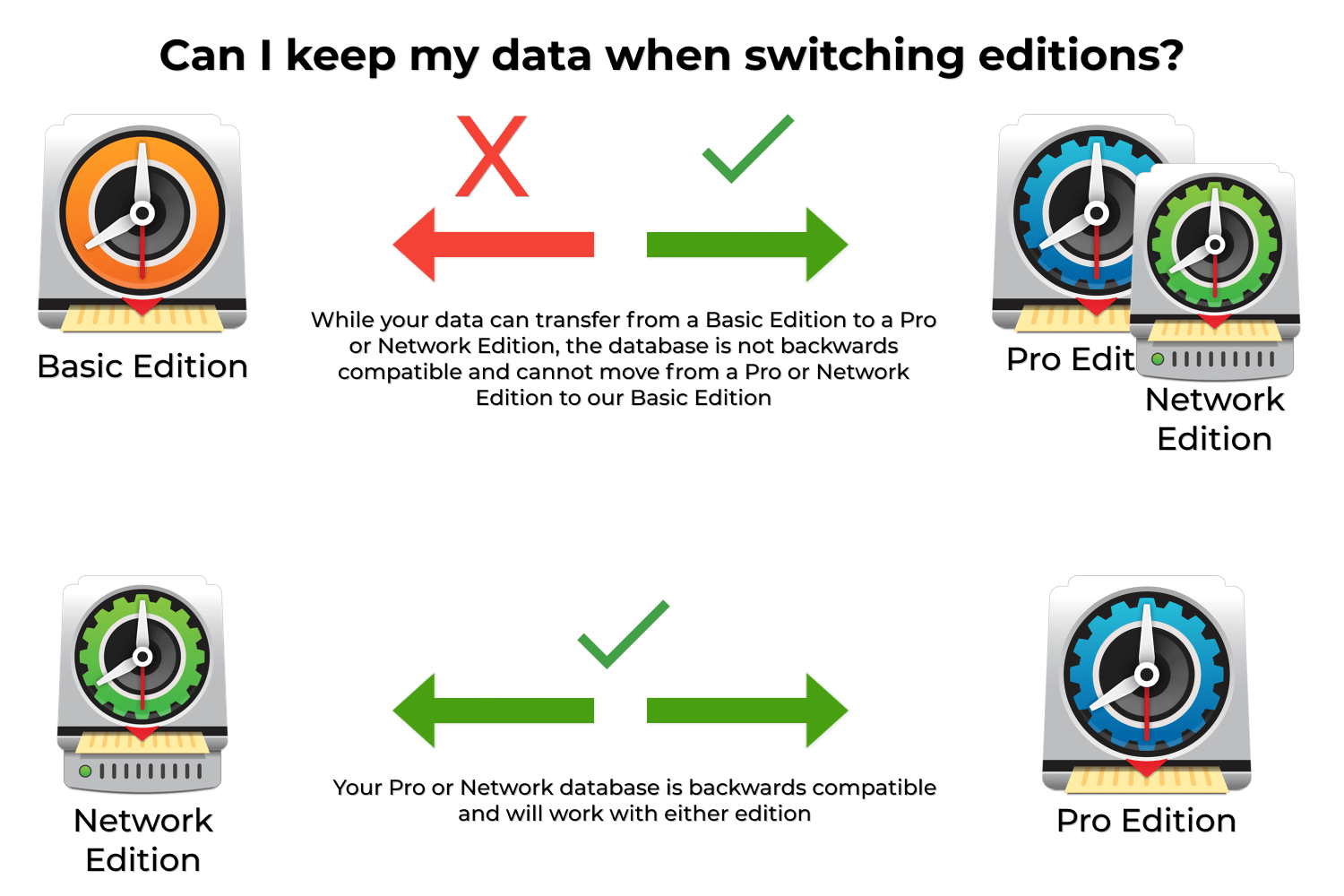 Pro & Network Edition: Switching between Pro and Network Edition? You can move your database from Pro to Network or vice versa without any compatibility issues.
Upgrading Basic: If you wish to upgrade from our Basic Edition to our Pro or Network Edition, your data is compatible and will integrate. Note: You cannot downgrade your Pro/Network database to our Basic Edition.


macOS & Windows: Virtual TimeClock runs on both macOS and Windows computers. Your database is compatible between both Mac and Windows, and can even run clients on both operating systems simultaneously with our Network Edition.
For those enrolled in Premier Support, upgrading to the latest version of our software is free! If you are on Standard Support and would like to upgrade, be sure to fill out our Discount Code request form or just give us a call. Our Customer Service team is here to help.