Virtual TimeClock Support Blog
---
Automatic Time Additions in Version 18.2
Virtual TimeClock Version 18 Release 2 introduced new Automatic Time Additions to compliment the existing auto time deductions feature. Automatic Time Additions can be used to automatically add time to an employee's timecard. Adding time can be used for situations when a worker starts their shift before they can physically go to the TimeClock to punch in.
Note: The ability to auto add time is only available in Pro and Network editions.

Which Entries are Affected
Automatic time additions only apply to users who have been assigned to a rule. When a user is assigned to a rule, that rule will take affect each time the rule conditions are met. Auto time rules only apply to the current payroll period and will not apply retroactively to timecard entries in closed periods.

Create an Auto Time Addition Rule
In order to set up an auto time addition, you need to decide how much time will be added after employees have worked a specified number of consecutive hours.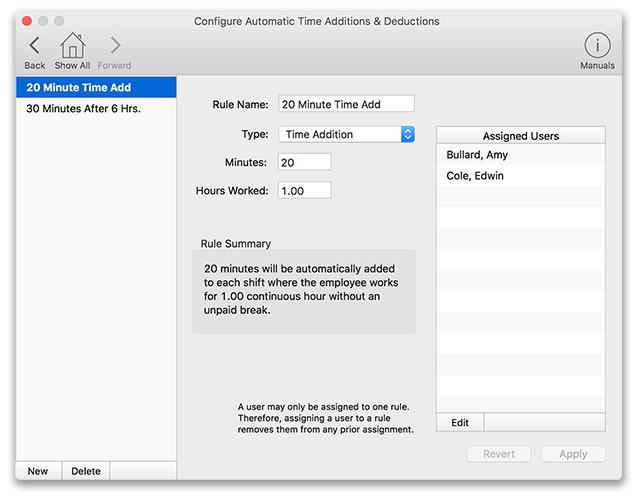 Follow the steps below to create or edit an auto time addition rule:
Select Turn Administration On from the File menu.
Choose Add/Deduct Time from the Configure window.
Add a new rule by selecting New at the bottom of the rule list.
Enter a Rule Name and select Time Addition as the Type.
After entering the rule parameters, review the Rule Summary for accuracy and choose Apply.
Note: Clocking out or taking an unpaid break will disrupt the continuous hours worked and prevent the rule from being applied.
Assign the new rule to the appropriate users by choosing Edit in the Assigned Users list and selecting individual workers.
Note: A user may only be assigned to one rule. Assigning a new rule to a user will remove them from any prior assignment.
Removing an Automatic Time Addition Rule
Remove automatic time additions with caution. Deleting a rule will remove all the time added from assigned user timecards for the current open payroll period. To delete an auto time addition rule:
Select Turn Administration On from the File menu.
Select Add/Deduct Time from the Configure menu.
Highlight the rule in the left column and select Delete at the bottom of the list.