Virtual TimeClock Support Blog
Audit Logs in Virtual TimeClock
Have you ever wondered if a timecard was edited, and if so, who made the changes? Virtual TimeClock records all timecard entry modifications in your Audit Logs.
To view the Audit Logs, first turn on Administration and select Program Logs from the Configuration menu. In the Program Logs window, expand the Audit Logs folder and select the Audit.log file.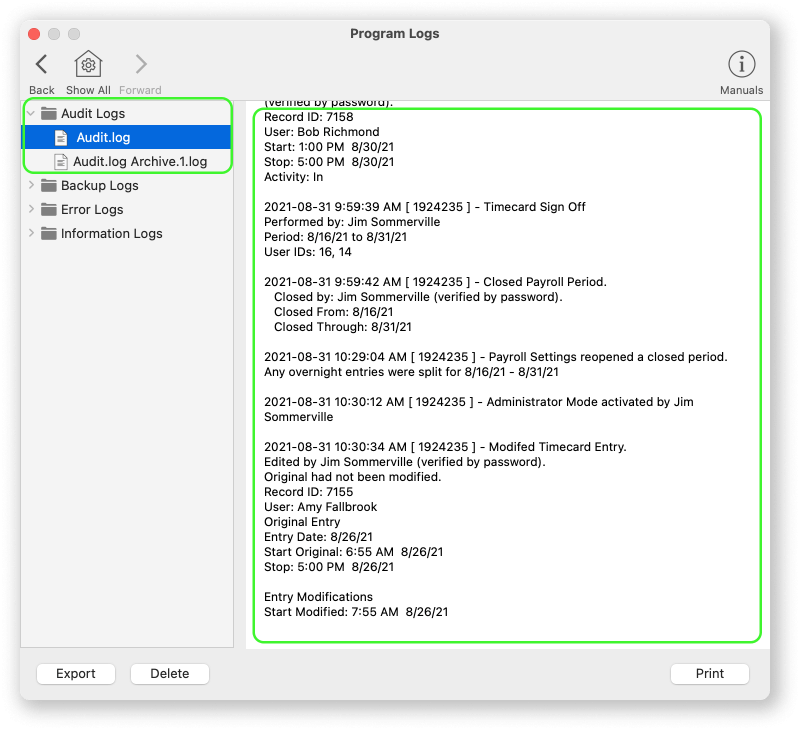 In the example above, we see that Jim enabled Administrator Mode at 10:30:12AM. He modified the start time for 8/26/21 for the user Amy Fallbrook. The log entry shows Amy's original starting time and the modified start time that Jim entered for her shift on August 26.
The Audit Logs also record manual timecard entries, administration mode activations, electronic timecard signatures, and when payroll periods are closed. For more information about the other program logs in Virtual TimeClock, see our Knowledge Base article about Program Logs.