Company Blog
---
Coming Soon: Virtual TimeClock 64-bit
Last week Apple made it official that 32-bit applications will not run on their macOS 10.15 Catalina operating system that will be released this fall. As we mentioned previously, we have been hard at work this past year rebuilding our entire Virtual TimeClock suite to run as native 64-bit apps.
We're pleased to announce that our upcoming Virtual TimeClock 19 release (available later this summer) will have a completely native 64-bit architecture. Our new 64-bit Virtual TimeClock apps run awesome on macOS Mojave and Windows 10. We will continue testing Virtual TimeClock 19 on upcoming macOS Catalina betas to ensure full compatibility when Apple releases their new OS this fall.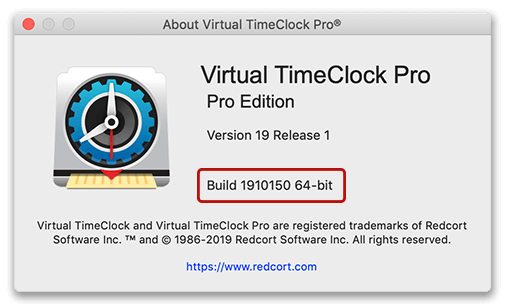 What to expect in Version 19
While rebuilding our 64-bit Virtual TimeClock applications, we added dozens of technology enhancements and improvements. Here is a short list of the what's coming in Virtual TimeClock 19:
Completely rebuilt code base for native 64-bit applications
Continued support for 32-bit applications for Windows users
Support for high DPI monitors in Windows
Expanded support for Apple Retina displays
Dark Mode support for macOS users
Updated user interface featuring razor sharp icons and text
Updated and enhanced payroll approval
Updated kiosk mode functionality with enhanced security
TLS (Transport Layer Security) update for Network Edition users
If you are enrolled in our annual Maintenance & Support program, our Version 19 release will be a free software upgrade and you will be prompted when the upgrade is available. If you are not currently enrolled in software Maintenance & Support, Version 19 will be available as a paid upgrade. Stay tuned for more information about our 19 release.