Skip to content
Virtual TimeClock Knowledge Base
Install Virtual TimeClock Pro
This article will help you quickly install Virtual TimeClock Pro on your computer.
1. Locate your Virtual TimeClock License 
When you purchase Virtual TimeClock Pro, a license key and instructions are sent to you via email. If you cannot find a recently purchased license in your inbox, please check your spam folder. If you are reinstalling or need a copy of your license, please contact us.
If you have not yet purchased Virtual TimeClock, the software will run for a limited time as a fully functional free trial. Learn more about Virtual TimeClock free trials on our website here.
2. Download and Run the Virtual TimeClock Installer
Note: Virtual TimeClock Pro cannot be installed or run by remote desktop connection.
Windows Users: If prompted by User Account Control or your antivirus, choose to Allow to finish installation.
Virtual TimeClock Pro will launch automatically at the conclusion of the installation.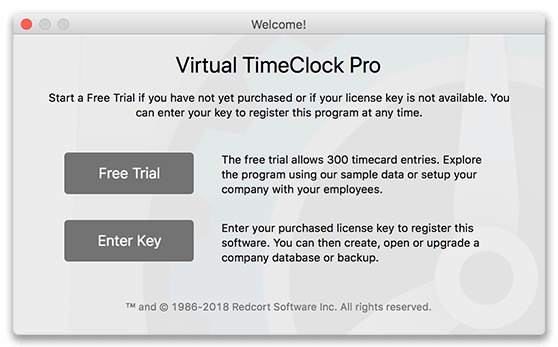 3. Enter Your License Key
Select the Enter Key button and enter your company information and key exactly as it appears in your license email. See Step 1 above for license assistance.
4. Next Steps
Choose Open to open an existing database on your computer.
If you have a company backup file, select the Restore button.
See our Pro Edition Setup Guide to learn how to create a new company and  get your time clock ready for employees to clock in.