Virtual TimeClock Support Blog
---
"Windows Protected Your PC" Install Message
If you are installing Virtual TimeClock on a Windows 10 computer, you may get a message stating: "Windows Defender SmartScreen prevented an unrecognizable app from starting. Running this app might put your PC at risk."  Installing Virtual TimeClock will not put your computer at risk.
You can safely ignore this message and continue with your installation:
Select the More Info link.
Click the Run anyway button.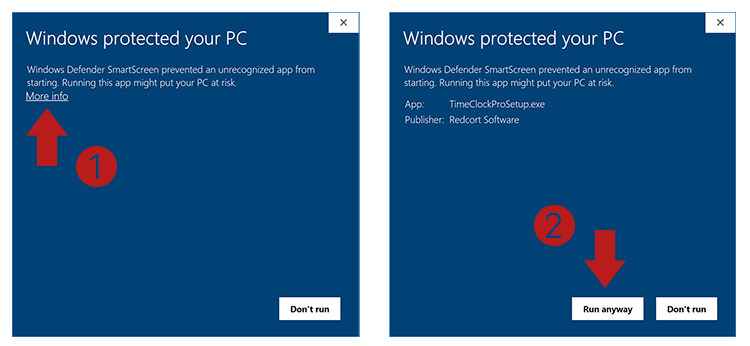 What does the message mean?
The Windows Defender SmartScreen is a way for Microsoft to alert you that an app seems suspicious. In our case, this message is a false-positive. According to Microsoft documentation, once enough people have installed this release of Virtual TimeClock, and established the 'reputation' of the program, Microsoft will turn this message off for future installations.