Virtual TimeClock Support Blog
---
Virtual TimeClock '11 Sneak Peek with Pictures!
Last month I was able to bring you some information regarding the new shifts feature in Virtual TimeClock '11. Well, this week I was able to get something even better. I think you're going to love these screenshots.
Shifts
This new feature revolves around user schedules that can be assigned a different shift for each day of the week. Shifts are composed of start and stop times that can be customized with different clock in and clock out restrictions, which gives you tremendous flexibility depending on how you want to manage employee overtime. Clock in restrictions allow you to record an early clock in as the shift start time or prevent early clock ins altogether outside of a user-defined grace period. Allowing users to clock in early but not starting until their actual shift start time is called a 'Courtesy Clock In'. Early clock ins can be overridden based on a new security access setting.
Clock out restrictions work in a similar fashion to control late clock outs. Plus we've added a new automatic clock out feature.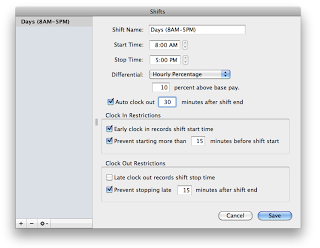 You'll also notice in this screenshot of the Shifts window an option to set a shift differential to use when calculating gross wages on your timecard reports.
Worker Actions
Virtual TimeClock '11 has a new dialog for performing actions like clocking in and out, changing activities, going on break, or heading out to lunch. Workers are clearly alerted when their punch time violates their shift restrictions, including trying to clock in on an unscheduled day. The new security setting determines whether an override is allowed and what user access level is needed to perform the override.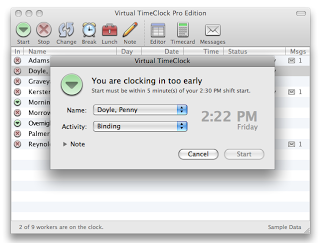 ​Well, I hope that whets your appetite for Virtual TimeClock '11. I know this new shifts feature is going to be a valuable tool for controlling employee overtime.