Virtual TimeClock Support Blog
---
TimeClock Service Will Not Start
If you are having difficulty installing or restarting the TimeClock Server background service on Virtual TimeClock Network Edition, this article will guide you through several things you can do to troubleshoot the issue.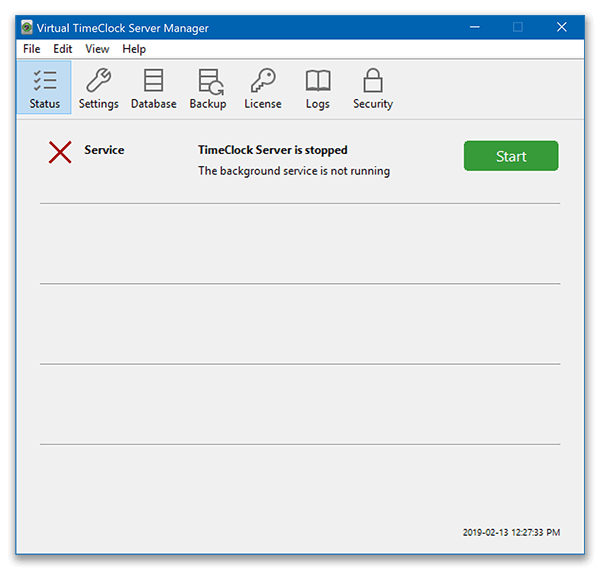 The TimeClock Server is a background service that runs on your computer and connects your TimeClock computers together with a central database. If this service is not running, your TimeClock clients will not be able to connect to the TimeClock. The status tab in the Server Manager program will notify you if the service is not installed or not running. Issues with the background service not running tend to be related to the Windows operating system.
Follow the troubleshooting steps below to get your TimeClock Server service installed or restarted.
1. Reboot your TimeClock Server computer
It's possible that an issue with your Windows operating system is preventing the service from running and may clear itself up with a system restart. Issues may also be related to incomplete Windows updates, which can be resolved with a restart.
2. Log into an administrator account when starting the background service
If you are logged into your computer with a standard user account, you may not have the necessary permissions needed to install a background service.
3. Check your antivirus or firewall programs
You may need to create exceptions in your antivirus to allow the background service to install properly. Antivirus will occasionally flag background processes that appear irregular even though Virtual TimeClock is completely safe. The quickest way to test if antivirus is the culprit is to completely disable the antivirus and then try starting the TimeClock Server service.
4. Make sure the background service is not stopped or disabled
Open your Windows services to view the properties of the TimeClock Server service. Follow the steps below:
Click the Windows Start button and type "Services" - select the Services app.
Locate the Virtual TimeClock Server service from the list.
Right-click the service and choose Properties.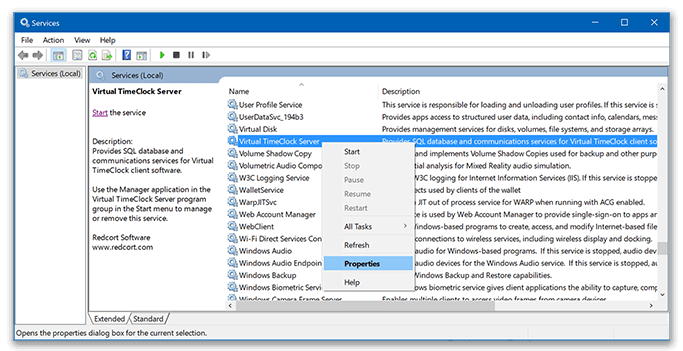 Make sure Startup type is set to Automatic.
If the service is stopped, choose Start.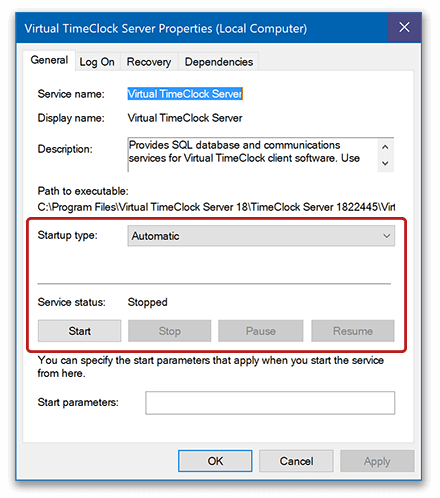 5. Uninstall and reinstall the program
If you are not able to resolve the issue using the steps above, you should uninstall the software and reinstall. If you're still having problems with the TimeClock Server service, please contact technical support so we can troubleshoot the issue with you.