Virtual TimeClock Support Blog
---
TimeClock Connection Error: Unauthorized
Customers using Virtual TimeClock Versions 15 and 16 sometimes receive the following error while trying to connect a Client: "TimeClock Server login error. Unauthorized." This article explains why users receive this error and how to correct it.
Note: In Version 18 and newer, the following security settings are optional and come turned off by default.

One of the new (highly requested) security features in Virtual TimeClock 15 was for control over who can connect to your TimeClock Server. In Virtual TimeClock 15 and 16, clients can only make new connections to a TimeClock Server when is it authorized by an administrator, manager or group password. Each time a TimeClock Client is subsequently restarted, it reconnects to the TimeClock Server using credentials received from the Server when it first logged in with the appropriate password.
The TimeClock Client's saved connection credentials will work as long as the TimeClock Server is found at its known location (IP address). Typical reasons a client cannot reconnect is because the TimeClock Server computer is issued a new IP address or the TimeClock Server software is moved to another computer at a new IP address.
When a TimeClock Server is no longer at it's known address, Virtual TimeClock Clients give the user an opportunity to select a new Server. The Client often will even find the new Server location via auto discovery. In prior versions of Virtual TimeClock, users would simply press the Login button to connect to the new server address/location. However, since new connections need an administrator, manager or group password, attempts by users to login using their user password results in the mysterious error: "TimeClock Server login error. Unauthorized."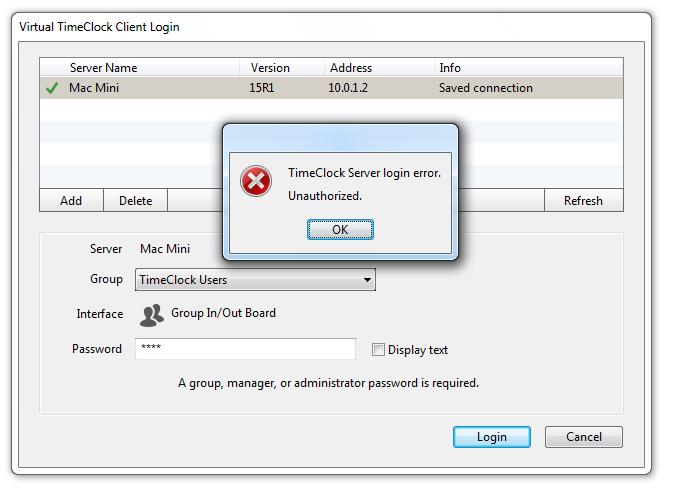 If your Client TimeClock uses the In/Out Board, PIN or Passcode group interfaces, an Administrator or Group Manager password will get you reconnected. If you have a large number of clients, you can issue a group password to your users that will allow them to connect their TimeClock Clients to a Server. Group passwords are created in the Display Group configuration panel (In administrative mode, choose Display Group from the Configuration menu).
If your Group is set to use the Individual interface, users need to select their username from the popup menu and enter their password to reconnect the time clock (See below). An administrator or group manager password will also work for login when using the Individual interface.