Virtual TimeClock Support Blog
---
Time Clock User Maintenance
Do you have employees that no longer work for your company or organization but their names still show on the in/out board list? Or perhaps you have seasonal employees who are returning to work after an absence and need to start using the time clock once again. If so, here are some tips for maintaining your time clock users.
Virtual TimeClock users include workers or volunteers who use the time clock to punch in and out, managers who need to oversee their worker's time cards and activities, and time clock administrators who have unlimited access to all of the functions and features of the time clock. From the Configure menu, choose Users. The Configure Users window will list all users, both active and inactive, by default. If you have a large number of users, you can make the list more manageable by toggling between all users and active users. Here's how to make a user inactive.
Select the User from the list on the left.
Under the Access tab, select Inactive from the Status drop-down list.
Enter the user's last day of employment.
Click Apply to save the changes.
To make an inactive user active again, simply change the status back to User, Manager, or Administrator depending on what program features they need access to. Making a user inactive will remove the employee from all display groups, but preserves the historical record of hours and overtime worked, arrival and departure times, and any paid leave time for the worker. Deleting a user not only removes the user record, but also removes all historic timecard entries for the worker.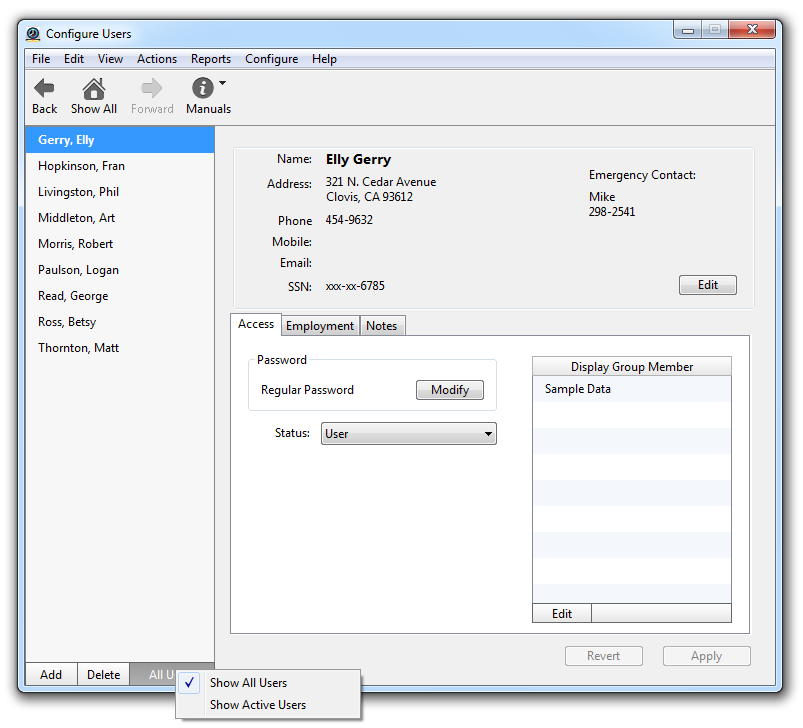 The Configure Users window is split into two separate parts. The top section contains optional personal information about the user. Only the first and last name is required in order for the employee to use the time clock. The lower section includes three tabs.
Access - This is where you can create and modify a user password, verify and update the user status, and assign the user to a display group.
Employment - This is where you can enter an employee hire date, classification, wage, employee number, and phone extension. Auto deduction rules, departments, andovertime rules can also be assigned here.
Notes - This is where you can track such things as training, safety compliance, wage history, and dates of employee reviews.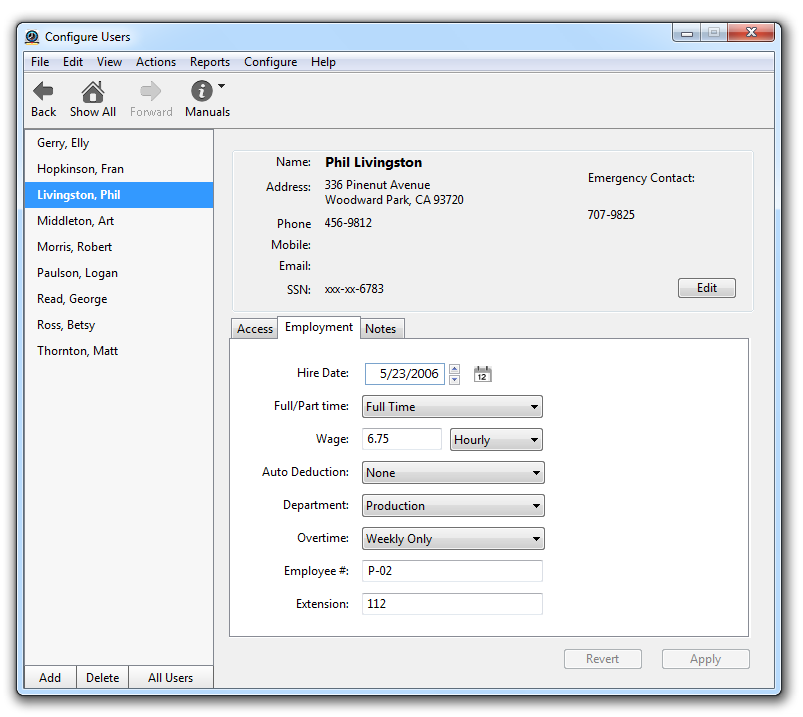 A little time spent understanding User maintenance will make the day-to-day administration of Virtual TimeClock a lot easier.