Virtual TimeClock Support Blog
---
Time Clock Clients Not Refreshing
The beauty of networked computer time clock software is that the status of each employee is instantly available on every time clock, in real time. This means if I clock out using the employee time clock in the warehouse, that my manager sitting in his office sees my status change to 'Out' from the convenience of his own computer time clock. This is an extremely efficient method for monitoring and managing employees.
If you notice that your Virtual TimeClock software is not updating in real time, or you go to use a time clock client and there's a noticeable delay when clocking in or out, then it's likely you have some energy saver settings that need to be adjusted. This is far more common on Mac than Windows.
Energy Saver Settings on Mac
On Mac, go to System Preferences and open the Energy Saver control panel. Make sure the slide bar for putting the computer to sleep is set to 'Never'. Also make sure the checkbox for putting the hard disk to sleep is not checked. It's fine to allow the computer display to go to sleep, just not the computer.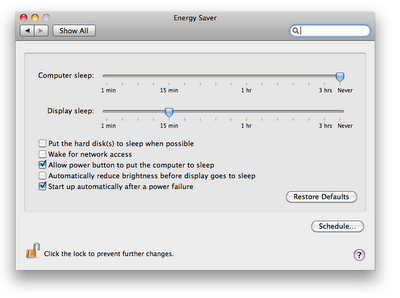 Power Options on Windows
On Windows, you'll also want to make sure the computer is not set to go to sleep. Go to Control Panel, then Hardware and Sound, then Power Options. Click Change when the computer sleeps in the left pane. Make sure the option for putting the computer to sleep is set to 'Never'.
​