Virtual TimeClock Support Blog
---
Problem Selecting Network Folder for Backups
Windows users occasionally have issues when trying to schedule Virtual TimeClock backups to a network folder. If you've mapped a network folder and the folder is available in the File Explorer but is not visible when selecting a backup folder in Virtual TimeClock, there is a Windows registry setting that may solve this problem.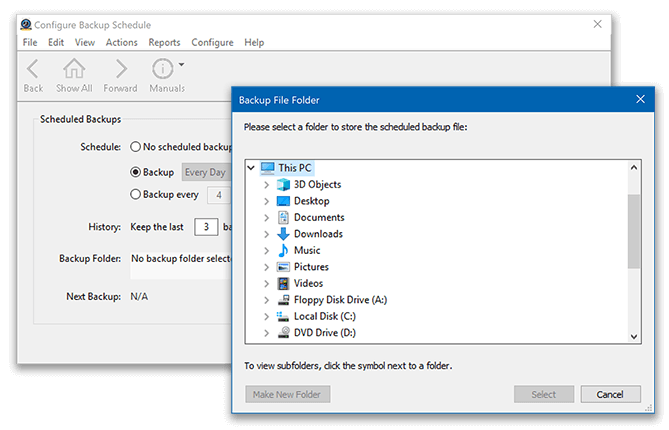 This problem occurs because Windows User Access Control (UAC) treats members of the Administrators group as standard users. Therefore, network shares that are mapped by logon scripts are shared with the standard user access token instead of with the full administrator access token. To work around this problem, configure the EnableLinkedConnections registry value. This value enables Windows  to share network connections between the filtered access token and the full administrator access token for a member of the Administrators group.
IMPORTANT: This guide contains steps that modify your system registry. Incorrectly editing the registry may severely damage your system or make your system unsafe. Before making changes to the registry, you should back up any data on the computer. Redcort Software is not responsible if you damage your computer.
Follow these steps to configure the EnableLinkedConnections registry value:
Click on the Windows Start button, type regedit and press Enter.
Navigate to the following path:  HKEY_LOCAL_MACHINESOFTWAREMicrosoftWindowsCurrentVersionPoliciesSystem
Right-click on the System folder and select New > DWORD Value.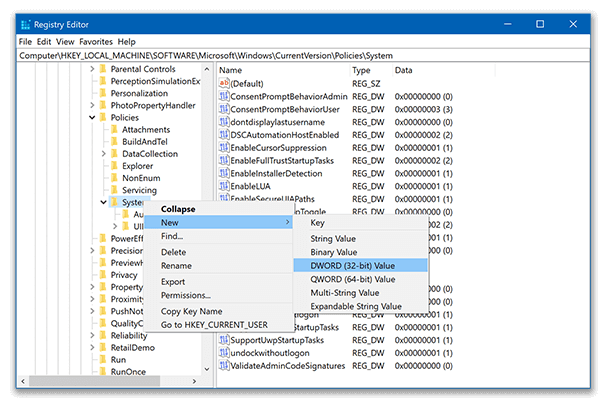 Type EnableLinkedConnections and press Enter to save the new value.
Right-click EnableLinkedConnections and choose Modify.
In the Value data box, type 1 and click OK.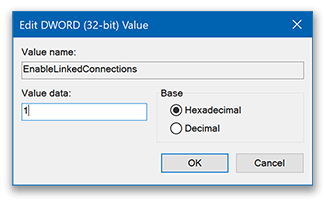 Exit the registry editor and restart your computer.
Note: For more details, see the official Microsoft documentation.
For more information about how to set up automatic backups, please review the Overview of Backups Knowledge Base article.