Virtual TimeClock Support Blog
---
New Leave Categories and Worker Leave Reports
Virtual TimeClock allows you to set up as many different leave categories as you want, both paid and unpaid. This allows you to customize your time clock software to meet the attendance tracking needs of your business. Although Virtual TimeClock already comes with some common leave categories like holiday, personal, sick leave, and vacation, you can rename them or add as many others as you want.
However, new leave categories will not show on the Worker Leave report until you add them. Go to the Reports menu, choose Report Writer, and select the Worker Leave report. On the right hand side, you'll see a list of all your leave categories. Select the checkbox next to any new leave categories you've added and save.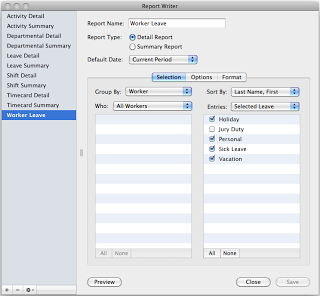 ​New leave categories aren't automatically added to the Worker Leave report because the Entries drop-down menu is already set to include only selected leave categories. The new leave categories should automatically be added to other default leave reports.