Virtual TimeClock Support Blog
---
Multiple Time Zones
Virtual TimeClock Network Edition is the perfect solution for offices in different time zones needing a centralized time clock system. The time used when punching in and out is usually provided by the time clock server computer. This prevents employees from being able to change their local computer time to try and defeat the time clock. If you need to connect different office locations that are in different time zones, then you'll want to change the time source configuration setting to use an Internet time server.
Here's how to change the time source when you have time clock clients in different time zones. Turn on admin, go to Configure, then Time & Rounding, and select Use Internet TimeServer When Available.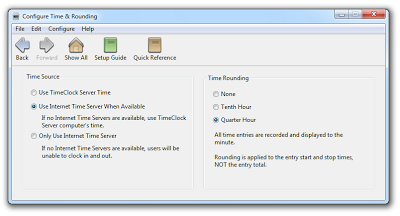 ​Restart your time clock clients so they'll start getting their time from a list of impartial and accurate Internet time servers based on the time zone settings of the computer.