Virtual TimeClock Support Blog
---
Microsoft Provides Universal C Runtime Update
If you are upgrading to Virtual TimeClock 19 on an older Windows computer, you may encounter an error message after installation that says: The program can't start because api-ms-win-crt-heap-l1-1-0.dll is missing from your computer. Try reinstalling the program to fix this problem. This brief article will explain why you are receiving this '.DLL is missing' message and provide an official resolution from Microsoft support.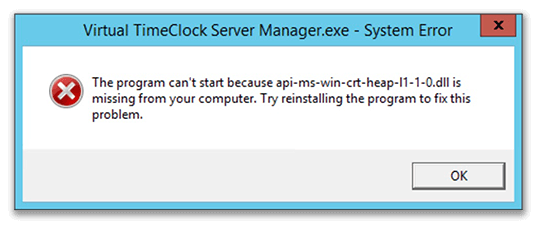 Why am I getting this error message?
Virtual TimeClock 19 for Windows relies on the latest software technologies, including updated dynamic-link libraries (DLLs). If you receive the above message after installing Virtual TimeClock, this simply means that one or more of the operating system components that Virtual TimeClock relies on are not present in your older version of Windows.
How do I fix the problem?
Microsoft has provided an update that allows Windows desktop applications that depend on the Windows 10 Universal CRT release to run on earlier Windows operating systems. Follow this link for more information from Microsoft: Update for Universal C Runtime in Windows.
This update applies to the following operating systems:
Windows Vista SP2
Windows Server 2008 Service Pack 2 (SP2) and 2008 R2 Service Pack 1 (SP1)
Windows 7 SP1
Windows 8 and 8.1
Windows Server 2012 R1 and R2
Once you have downloaded and installed the Windows 10 Universal CRT update, try opening your Virtual TimeClock software again. If you are still getting the missing file message, restart your PC, download your software from our website and reinstall.