Virtual TimeClock Support Blog
---
How to Troubleshoot Printing Issues
If you are having issues printing timecards or other reports from Virtual TimeClock, there are several things you do to troubleshoot. Virtual TimeClock uses your default printer settings when formatting and printing reports, which means printing issues are often related to your printer hardware settings. This article will guide you through reviewing your TimeClock page setup configuration and then provide general troubleshooting tips when dealing with your printer.

Page Setup in Virtual TimeClock
Review the page setup settings in your TimeClock software:
Open your TimeClock software.
Select Page Setup from the File menu.
Verify that the Size is set to Letter.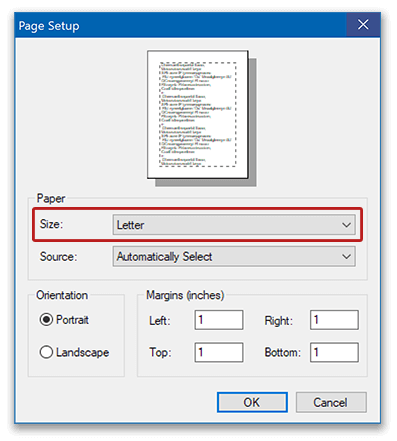 Review Default Printer Settings​
Since Virtual TimeClock relies on the current printer for formatting reports and printing the proper layout, it's important to review printer settings when troubleshooting TimeClock printing issues. Find your printer settings by following the steps below for your operating system, and then review the troubleshooting tips below.
Apple macOS: Apple menu > System Preferences > Printers & Scanners
Microsoft Windows: Control Panel > Devices & Printers
Troubleshooting tips:
Is there a default printer? If not, assign your standard printer as the default.
Make sure the default printer is not a label or receipt printer.
Review the printer settings to ensure the paper size is set to US Letter with scale at 100%.
Check to see if there is an update to the printer driver.
Do other programs on your TimeClock computer print correctly?
Can you print timecards to another printer successfully?
Are other computers in your office able to print correctly?
If all the settings appear correct and you still cannot print correctly, you can also try deleting and reinstalling the printer.