Virtual TimeClock Support Blog
---
How To Track Late Employees
Employee tardiness can be a real source of frustration for business owners and managers. Very few employees are likely to mark themselves as late when filling out paper time sheets. That's why time clock software is such a great tool for tracking the real time arrival and departure of your employees. It holds employees accountable and gives business owners several ways to monitor late employees.
Real-Time Monitoring
With Virtual TimeClock Network Edition, it's easy to see when employees are showing up and leaving in real time. Anytime an employee clocks in, goes on break, heads out for lunch, changes activities, or clocks out at the end of the day, their status is instantly updated on every time clock on the network. This makes it convenient for managers to monitor when employees are coming and going.
Late Arrival Report
Using the new shifts feature in Virtual TimeClock '11 is a great way to track late employees. Once you've configured and assigned your shift rules, the time clock will be able to compare when employees are scheduled to start work to when they actually start work. Run the Late Arrival Report from the Reports menu to get a list of who's been late, when they actually arrived, and how many minutes they were late. You can quickly run the report daily, weekly, monthly, or even for an entire year. This is a great report to have handy when conducting employee performance evaluations.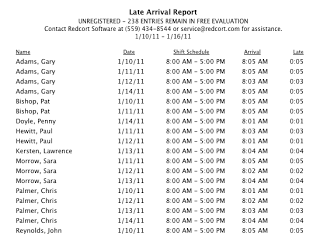 ​