Virtual TimeClock Support Blog
---
Help Us Help You
Virtual TimeClock users typically contact technical support either because something isn't working right (support) or they just don't understand how it's supposed to work (training). Redcort Software technical support team members know that when you have questions about your time clock software, you want answers in a timely manner. Here are some things to have ready when you call in to help us quickly resolve your issue:

1. What version and edition of Virtual TimeClock are you using? Ex: Virtual TimeClock '12 Release 1 Pro Edition. It's easy to find this information in the About window of your time clock program.
On Mac, go to the Virtual TimeClock menu and choose About Virtual TimeClock.
On Windows, go to the Help menu and choose About Virtual TimeClock.
The About window looks like this: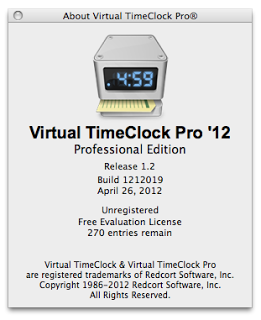 2. What operating system are you running? Ex: Windows XP Professional, Mac OS X 10.6.8, etc. Here's how to find out:
On Mac, go to the Apple menu and choose About This Mac.
On Windows, right mouse click My Computer or Computer and choose Properties.
3. Did you receive an error message? If so, what's the exact error message on your screen? Screen shots are really helpful.
4. What changed? Ex: Are you doing something differently? Did your IT person add a new computer to the network?
With that information in hand, we're off to a great start toward figuring out what's going on. You can also call tech support if you have a question on how a time clock feature works, need help upgrading, or just want to make a suggestion to improve Virtual TimeClock.
No matter what the issue, we're here to help!