Virtual TimeClock Support Blog
---
FLSA Changes and Tracking Salaried Worker Overtime
On May 18, 2016, the Department of Labor announced an update to the Fair Labor Standard Act (FLSA). One major change requires employers to pay overtime for salaried employees earning less than $47,476 per year. This law becomes effective on December 1st, 2016, and is expected to impact over 4 million workers in the first year.
The good news is that Virtual TimeClock can help you respond to this change. You can easily use Virtual TimeClock to track your salaried employee's hours and automatically calculate overtime, just as you do with your hourly employees. Salaried employees will be required to clock in & out, or manually enter their hours. Virtual TimeClock 16 has a new shift rule that can help you control overtime by preventing workers from exceeding 40 hours per week.
To add a salaried employee in Virtual TimeClock:
Select Turn Administration On... from the File menu to enter administrative mode
Select Users... from the Configure menu
Click the Add button in the bottom left corner of the window and choose New User...
In the new user window enter the employees first and last name (the only two required fields) and any other information that you would like
Click Save & Close (or Save & Next if you have other users to add)
Once you employees have been added you can select their name from the left lane
On the right side of the window, click the Employment tab
From here you can enter the employee's hire date, wage, status as a salary worker, and even choose their appropriate overtime rule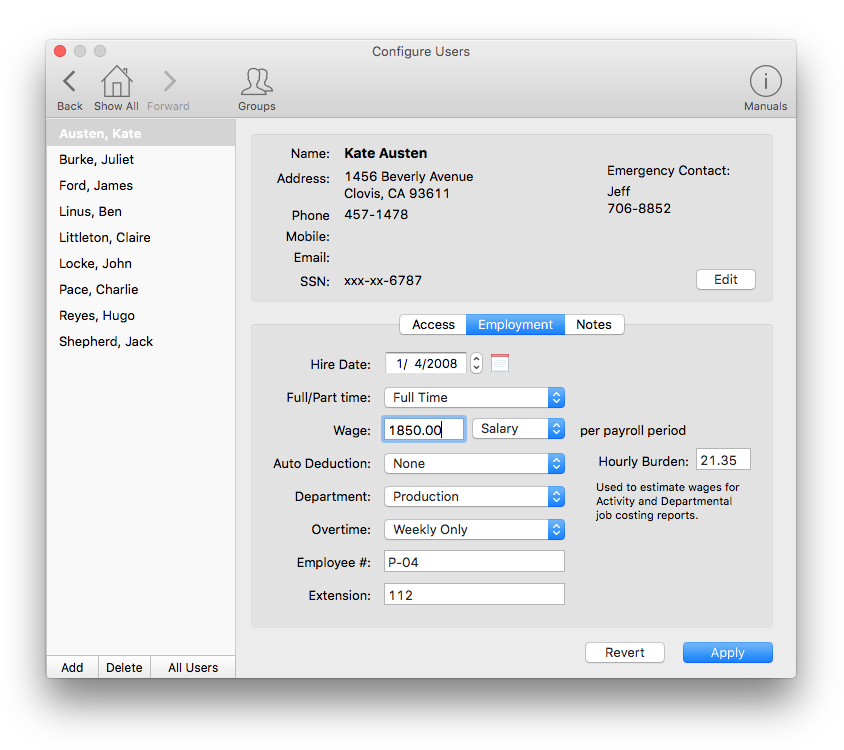 If you are using multiple Display Groups in Virtual TimeClock, you will want to make sure the user is added to all applicable groups so they can use the TimeClock.
Tips: